News story
DFID Research: Measuring the impact of sovereign disaster risk finance and insurance
A new impact appraisal looks at the Disaster Risk Financing Programme and aims to build an improved evidence base for national governments and international donors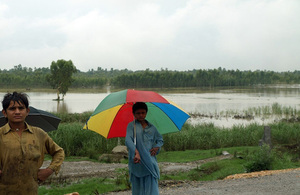 The UK Department for International Development (DFID) and the Disaster Risk Financing and Insurance Program, a joint programme of the World Bank and Global Facility for Disaster Reduction and Recovery (GFDRR), are partnering to improve the evidence base for sovereign disaster risk finance and insurance (DRFI).
This project will develop and test a quantitative impact appraisal framework for sovereign DRFI programs, such as those that make use of government disaster reserve funds, lines of contingent credit, and catastrophe insurance instruments. Better evidence in this area will enable national governments and international donors to be smarter in their support, maximising their impact, and ultimately reducing the human and economic costs of disasters.
The frequency and severity of humanitarian disasters will continue to grow in the coming years and at an accelerated pace. Climate experts predict, for example, that 375 million people a year will be affected by climate related disasters by 2015, up from 263 million in 2010. In response to the growing risk arising from natural disasters, national governments and the international community need to develop new and innovative ways of managing risk.
Low-income countries and donors are becoming increasingly interested in disaster risk finance and insurance at a sovereign level as a way to increase financial resilience to disaster events. However, very little is known about what works most effectively at reducing the human suffering and economic costs of disasters.
This research project will look to combine private sector risk assessment models, which are used routinely by the insurance sector, with rigorous evidence on public finance and international development. The ultimate aim will be to create a forward-looking impact appraisal tool for decision-makers that can support more effective targeting of support for disaster risk activities.
It will enable decision-makers to understand when sovereign disaster risk finance and insurance programmes are (and when they are not) effective components of a comprehensive approach to managing the financial risk associated with disasters.
This project will include conceptual work, development of an operational framework, and five case studies starting in 2014.
Further information is available on the GFDRR website.
Published 23 September 2013