DFID Research: Knowledge infrastructure and rural transport: The African community access programme
As part of the process to strengthen knowledge management and dissemination in the rural transport sector, the International Forum for Rural Transport and Development has commissioned a survey.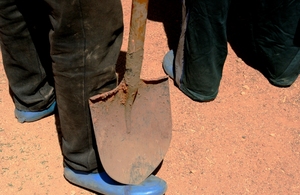 In the last 30 years or so, despite a decline in funding and in the number of actors in the rural transport sector, there has been a steady growth of projects and research activities that have improved the understanding of the various dimensions of rural access and mobility, including rural transport infrastructure, rural transport services and the social and economic impacts of different rural transport interventions. The knowledge generated by these activities lies scattered across different agencies, projects and countries, and tends to reside in reports within donor agencies and ministries, as grey literature in a few libraries and as tacit knowledge among the sector's consultants and experts.
Meanwhile, the past two decades have also seen changes in the number and type of institutions involved in the rural transport sector in Africa and elsewhere. National transport ministries, supported by bilateral and multilateral aid agencies remain key players. However, attempts to decentralise decision-making, as well as the creation of road and transport authorities, have increased the need for up-to-date information to be available locally.
The African Community Access Programme (AFCAP), funded by DFID and managed by Crown Agents, advises and supports applied research in addressing rural access constraints and communicates research outcomes to multiple stakeholders. There is a need to make this research available to relevant practitioners and the public in general. By disseminating the knowledge that has been collected over the years, AFCAP hopes to improve policy making, technical research and continue to improve rural access.
In this context, AFCAP has identified the need to strengthen knowledge management and dissemination in the rural transport and development sector. The International Forum for Rural Transport and Development (IFRTD) has commissioned a team of consultants to facilitate the process.
As the first step of this assignment, the IFRTD team would like to take stock of how different transport professionals access the information that they need for their work. The team also wish to learn how transport research is stored and shared, and the best practices at national and international levels.
To take part in the survey, please click here.
Published 5 February 2013