News story
DFID Research: Humanitarian Evidence Synthesis and Communication Programme call for proposals
The Humanitarian Evidence Synthesis and Communication Programme is looking for applicants to develop and communicate rigorous synthesis products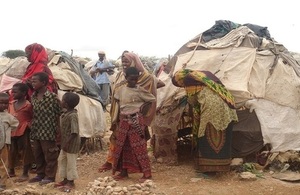 As part of the Humanitarian Innovation and Evidence Strategy the UK Department for International Development (DFID) wishes to engage a Service Provider to manage the Humanitarian Evidence Synthesis and Communication Programme. The aim of the programme is to provide humanitarian practitioners and policy-makers both within DFID and beyond with an improved evidence-base that they can draw on in their decision making.
The Humanitarian Emergency Response review, published in May 2010, highlighted the need for more and higher quality research in relation to humanitarian assistance, and that this research should be readily available to policy makers and practitioners. At present, where humanitarian evidence does exist, it is often scattered and not available in a consistent format. Better evidence can help to increase the effectiveness of humanitarian interventions, save lives, minimise disaster losses, increase value for money and improve accountability.
Over the next 3 years, DFID will contract a lead organisation to commission the production of a series of high quality evidence synthesis products (Systematic Reviews and rigorous literature reviews). This lead organisation will also be responsible for packaging and presenting these products to appropriate policy maker and practitioner audiences in the international humanitarian community. It is envisaged that up to 5 Systematic Reviews and at least 10 rigorous literature reviews will be produced which address "what works" type questions. Questions will be selected through a consultation process with a range of stakeholders for their relevance to the humanitarian community. For more details about the call and guidance on submitting the pre-qualification questionnaire, please read the full call notice.
The deadline for submission of the pre-qualification questionnaire is the 9th of September 2013 at 2.00pm.
Published 9 August 2013