News story
DFID Research: helping women to protect themselves against HIV
Research into using microbicides to help women protect themselves from HIV is being funded by the Department for International Development (DFID).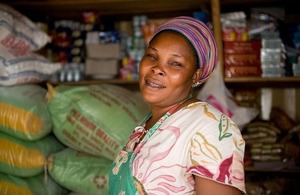 In August of this year (2013) the International Partnership for Microbicides (IPM) received a £15 million award, from the Department for International Development, to be spread over 5 years. The fund was designed to create new HIV prevention technologies and multipurpose prevention technologies (MPTs) for women.
IPM is a not-for-profit foundation whose mission is to prevent HIV transmission by supporting the development and availability of safe and effective microbicides for use by women in developing countries. An effective microbicide will not only protect women against HIV infection, but also interrupt the cycle of transmission from and to men and to newborns by preventing infection in the mothers.
Support for developing new tools
The investment will support IPM's development of new female-initiated tools, including a monthly vaginal ring designed to prevent HIV - the first product of its kind. The ring, currently being studied in 2 late-stage clinical trials in Africa, slowly delivers an antiretroviral (ARV) drug called dapivirine that could potentially provide discreet and long-acting protection against the virus. Pending trial results in 2016, DFID's support will help ensure the dapivirine ring is rapidly available to women who need it most.
In addition, the grant from DFID will expedite development of IPM's 60-day MPT ring, which combines the ARV dapivirine along with the contraceptive hormone levonorgestrel to simultaneously protect against HIV as well as unintended pregnancy. IPM is developing the MPT ring under a grant from the US Agency for International Development and, with the new DFID award, plans to begin a Phase I trial in 2015.
Voices from the field
Real Voices, a new series of films produced by IPM, captures the views of practitioners and community members on the significance of microbicides in helping women reduce their risk of HIV infection. The latest film features interviews with researchers and community workers in South Africa. It illustrates an existing and increasing demand for the vaginal ring.
Currently for Africa, 2 out of 3 new HIV cases, are women.
Dr Cheryl Louw, the Principal Investigator at the Madibeng Centre for Research, South Africa, highlights how women are at a disadvantage when it comes to HIV protection during sex.
Women often find it difficult to negotiate the use of condoms.
http://vimeo.com/69679034
A product of this type, as the film points out, allows women to protect themselves from HIV. By giving the power to the women directly, many of the social factors which contribute to HIV infection can be avoided.
The monthly vaginal ring study is now underway. More information on the research can be found on the IPM website and in the fact sheet below.
DFID's extended support of IPM comes as part of a wider investment to help combat some of the world's most debilitating and deadly diseases. Including IPM, DFID is investing £138 million over the next 5 years into 9 public-private partnerships. This will support the development of innovative new drugs, vaccines, insecticides, diagnostic tools and microbicides to prevent, diagnose or treat these diseases.
Among the 9 product development partnerships are the Drugs for Neglected Diseases initiative (DNDi), Medicines for Malaria Venture (MMV) and Aeras.
Published 9 September 2013