DFID research: DFID commends the Great Himalaya Trail Development Project as SHARE develops new strategies for safer sanitation in Nepal.
Sanitation and Hygiene Applied Research Equity (SHARE) is currently working in the country to improve systems of research use.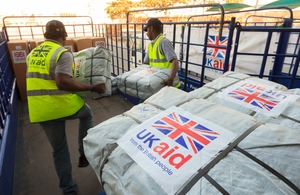 At the beginning of August, 2012, DFID commended SNV Nepal's Great Himalaya Trail Development Programme (GHTDP) as the best tourism project in the country. The project is working with the Nepal Tourism Board (NTB), and the Trekking Agencies' Association of Nepal (TAAN) to create a new trek route, spanning the length of the country. By encouraging trekkers to pass through less developed areas, GHTDP aims to stimulate business and income growth in some of Nepal's poorer communities.
Nepal is one of the poorest countries in the world, and tourism contributes 4% of gross domestic product (GDP). By facilitating access to less developed areas the GHDTP is ensuring an increase in net benefits for local communities who live beyond more established trekking hotspots.
However, while potential tourists are offered information on clean and safe accommodation along the trail, many communities in Nepal still suffer from sub standard sanitary services. Sanitation and Hygiene Applied Research Equity (SHARE) is currently working in the country to improve systems of research use and uptake to establish safer methods of sanitation.
SHARE began in 2009 with the aim of developing institutional and policy knowledge on sanitation and hygiene in key regions.  With DFID funding in place until 2015, the programme aims to generate improved methods of research uptake in the most vulnerable communities across Africa and southern Asia.
In May of this year, SHARE, alongside WaterAid, undertook a scoping visit to Nepal, prior to the implementation of a routine rotavirus vaccination programme. The visit aimed to develop a strategy for delivering a package of interventions as part of the polio vaccination campaign.
After discussing ideas for effective sanitation and hygiene promotion with different focus groups including mothers, female community health volunteers, and key stakeholders, a pilot strategy is now being developed which will provide effective delivery of improved sanitation services and information on hygienic stool disposal and hand-washing, alongside the rotavirus vaccine, as part of a routine intervention package.
Om Prasad Gautam was a consultant on this scoping visit. A PhD student, funded by SHARE, at the London School of Hygiene and Tropical Medicine he spoke in January as part of Sanitation Matters, a podcast produced by SHARE Research for SOAS radio.
In Nepal: Investigating sanitation, health and food hygiene, Gautam discusses the current sanitation challenges in Nepal and how best to tackle them. He refers to the drastic need for improved sanitation coverage across the country. He points out that, of a population of 29 million, only 43% have access to good sanitation. This lack of access to information and services, especially in some of the more remote regions, is directly linked to diarrhoeal outbreaks.
"In the year 2009 a single outbreak [of diarrhoea] caused 346 deaths… Those districts which do not have sanitation facilities, districts with below 20% coverage, those districts are becoming the epicentre in terms of transmitting those diarrhoeal cases."
Through generating knowledge and improved research uptake strategies in the developing world, SHARE aims to drive progress towards the MDG target on Sanitation. However, as Om Prasad Gautam points out, research must be driven towards developing practicable methods of improving hygiene in households- this means observing existing methods and techniques as well as monitoring successful uptake of new information.
The diverse cultural and physical landscapes of Nepal shape the work of the GHTDP and SHARE. For the GHT this is a selling point, as a pro-poor tourism initiative the project allows tourists a safe entry point for visiting these unique communities while the communities themselves benefit directly. For SHARE the cultural diversity of Nepal, as well as the physical isolation of specific communities, presents a challenge which they are addressing from within- developing strategies which complement existing ideologies and practices.
Though unrelated, these projects are, potentially, mutually beneficial: enabling communities to develop local business infrastructure, and, through increased income, giving them the means to effectively utilise the knowledge disseminated by SHARE to improve access to sanitation and health services in the future.
Published 28 August 2012