DFID research: Current and planned research on agriculture for improved nutrition: Negotiating the gaps
New report develops a conceptual framework to characterize agricultural research in order to identify gaps in knowledge and practice.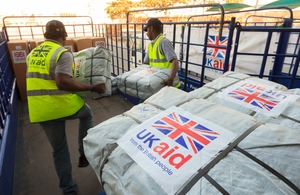 A report has recently been published for DFID which examines 151 research projects on agriculture for nutrition. Compiled by researchers from the Leverhulme Centre for Integrative Research on Agriculture and Health (LCIRAH), Current and Planned Research on Agriculture for Improved Nutrition: a Mapping and a Gap Analysis maps a range of different types of research, including agricultural development projects, specific agricultural interventions, and the generation and analysis of new data on agricultural and nutritional change.
Currently, one third of all child deaths are linked to malnutrition while 170 million children worldwide suffer from stunting. With malnourishment in childhood leading to poverty, accessibility to improved nutrition is fundamental to achieving positive social and economic outcomes as well as better health.
With new initiatives announced at the UK hunger summit in August, and the new global target to reduce the number of stunted children by 40% by 2025 declared by the UN's World Health Assembly, DFID commissioned this new report to identify poorly researched areas in the newly invigorated fight against malnutrition.
Using a mapping process to identify gaps in research coverage, a conceptual framework has been developed to define and characterize agricultural research. Placing nutrition at the centre, the framework identifies the routes by which research may contribute, directly and indirectly, to improved nutrition and how evidence of impact may be gathered along these pathways.
The analysis only examines projects operating within low and middle income countries which target nutritional outcomes. The report also specifies that programmes must incorporate an agricultural component. By providing a detailed overview of research in this area, including outlining all the funding bodies and organisations associated with projects, the analysis identifies eight clear areas where more research is needed:
The whole research chain - research that considers the full pathway of change from agricultural inputs, practices, value chains, food environment to nutrition outcomes
The indirect effect of changes in agriculture on nutrition
The effects of agricultural policy on nutrition as mediated through the value chain
Governance, policy processes and political economy as it relates to the development of agriculture-for-nutrition policies and programmes, the ability to implement them (and scale up) and for them to achieve their stated goals once implemented.
The way research on agriculture and nutrition is conducted, such as the development of methodologies and appropriate metrics
Consumers as a broader target group, notably rural workers and non-rural populations  
Rural and urban poor at risk from nutrition-related non-communicable diseases
Cost-effectiveness
In its conclusion the authors suggest methods for tackling these gaps, laying out several steps which can be taken towards establishing more complete research pathways.
The report notes the positive rise in the significant number of planned and current programmes on improved nutrition, and refers to the recent and rapid development of a substantial research community in the field. However, the analysis identifies the need for a network of researchers to be established in this area. Developing improved communication channels, between the different projects mapped in the report, will ensure the spread of effective research methodologies and practices.
With DFID funded programme Transform Nutrition describing the rate of poor-nutrition reduction as 'glacial', Current and Planned Research on Agriculture for Improved Nutrition: a Mapping and a Gap Analysis attempts to identify the obstacles causing this. Offering a comprehensive overview of how the field of nutrition research is developing, the report highlights key steps towards breaking the ever-worsening cycle of malnutrition in middle and low income countries.
Published 29 August 2012