News story
DFID Research: Considering mental health in Africa
In April, PRIME held its annual meeting in Ethiopia and launched the African-led research initiative on Improving Mental Health Care.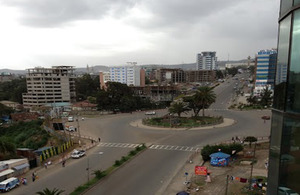 The Programme for Improving Mental health care (PRIME) is a research initiative, funded by the Department for International Development, established to design ways to integrate mental health care services into primary health care (PHC).
Research indicates that more than 13% of the global burden of disease is due to mental illness. Although the vast majority of people affected by mental illness live in low-and middle-income countries, most mental health care resources are located in high income countries. This lack of resources for effective treatment has contributed to a large 'treatment gap', i.e. up to 4 out of every 5 people with mental illness in LMIC go without mental health care.
In Africa mental illness accounts for over 5% of all reported illness, however in many countries this is not reflected in policies and political commitment. PRIME's meeting in Ethiopia between the 15th and 20th of April included the launch of the African-led Research Programme on Improving Mental Health Care established with the aim of raising awareness and improving the management and treatment of mental health at national and regional levels. The initiative comes at a time when interest is already high with Ethiopia having developed their first national mental health strategy late last year.
The meeting saw speakers from the PRIME Ethiopian leadership, the African Union and Addis Ababa University College of Health Sciences call for urgent action towards integrating mental health care into primary health care. They highlighted how reducing stigma and improving treatment of mental illness could benefit crucial social, economic and health issues across the African continent.
In a statement made at the launch, H. E. Dr. Mustapha Sidiki Kaloko, the African Union Commissioner for Social Affairs, discussed the lack of mental health policies in more than half of the countries in Africa. He pointed to the need to address the triggers of mental health issues, such as conflict and poverty but stressed that these issues could not be dealt with in isolation.
When we address those issues we will be addressing the bigger picture of mental ill health in our societies. But while, such issues are becoming difficult to address by the day by nations and even groups of nations, we must not lose sight of the fact that the current mental ill- health situation must be addressed.
He welcomed the initiative and expressed hopes that it would ensure a greater prominence for mental health in African policies.
PRIME's overarching goal is to generate new knowledge which informs the development of mental health programmes that improve health and socio-economic outcomes, in particular of the poor and mothers, and accelerate progress towards achieving the Millennium Development Goals by reducing the 'treatment gap' in mental health.
The research coordinated by PRIME focuses on three priority mental disorders - depression, alcohol use and schizophrenia - the three leading mental health causes of the burden of disease. It aims to generate world-class research evidence on the implementation and scaling up of treatment programmes of these priority mental disorders which can be widely adopted by policy makers and practitioners.
Published 30 May 2013