DFID holds discussions on post-2015 development agenda at SZABIST University
The UK's Department for International Development (DFID) in Pakistan held a discussion with students of SZABIST University on Tuesday on new goals to replace the current Millennium Development Goals (MDGs) after 2015.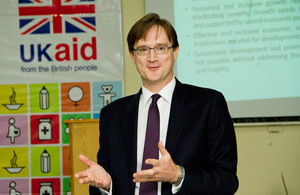 Since their launch in 2000, the MDGs have encouraged countries to work towards meeting the needs of the world's poorest people by 2015. The discussion at SZABIST aimed to involve Pakistan's young people in the international debate that is shaping the new, post-2015 development goals and to foster active engagement on the UK priority goals: economic growth, education and poverty eradication.
United Nations Development Programme (UNDP) Pakistan Country Director Marc-Andre Franche was also present at the discussion where students came up with recommendations based on the Post 2015 scenario. These recommendations will form part of a report to be published in December.
The university discussions form part of a wider initiative which includes a competition called "Shape the Future". This invites schoolchildren from across Pakistan to share their recommendations on the post-MDG goals – in the form of paintings and pieces of creative writing – on what they think would help improve people's lives in Pakistan and put the country on the path to sustainable progress.
Speaking at the event, Head of DFID Pakistan, Richard Montgomery stated:
These discussions provide a great opportunity to engage with university students in Pakistan and hear their views on sustainable development for Pakistan, and to help them contribute to the international discussion on a new, ambitious and inspiring global framework for sustainable development growth. Such students are future leaders in society, and by involving them in these discussions we hope they will help shape the future of their country for the better.
The UK and Pakistan are working now to eradicate extreme poverty – which underpins the MDGs – through work on education, job creation, entrepreneurship, skill development and promoting sustainable development.
As a long standing partner of Pakistan, the UK is helping Pakistan achieve its MDGs. By 2015, the UK will have helped four million children go to school, will have provided young adults with skills to get jobs, have helped 1.23 million poor people, more than half of them women, access microfinance loans, and have prevented half a million children from becoming under-nourished."
Country Director, UNDP, Marc-André Franche said:
The key priority areas that have emerged from the Millennium Development Goals (MDGs) consultations in Pakistan include peace, justice and human security, governance, energy, environment and disaster mitigation, inclusive economic growth and social development and gender equality.
The MDG experience suggests that the new agenda will be most powerful if it is measurable, clear and concise. Such an agenda will have an impact only if it is inclusive of all sections of the society especially the poor and vulnerable."
Media enquiries
The Department for International Development (DFID) leads the UK Government's work to end extreme poverty. Find out more here
Notes to editors
Published 15 October 2014