Press release
Devon farmers profit as EU takes a prime cut of our beef exports (Archived)
Beef farming and Devon's beef industry could be under threat if the UK left the EU, Environment Secretary Elizabeth Truss warned today.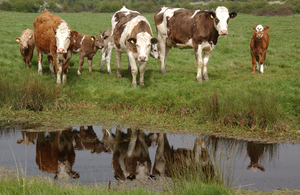 Ninety-three per cent of all our beef exports went to the EU in 2015 and so beef farmers could lose millions of pounds of business if they lost access to the vital EU single market.
From steak frites to boeuf bourguignon, hamburgers to hachée, high-quality British beef is used in classic dishes across Europe, with 92,000 tonnes, worth £320million, heading to our EU neighbours last year. Devon plays a central role in this with the region's farmers making up over 35 per cent of beef farms in the South West.
Overall, 75 per cent of all food and drink exports from the South West, worth £420m, headed for EU countries last year. It is far from certain what trading relationship the UK would have with the EU should the UK leave - farmers could face crippling tariffs to sell their goods to Europe and a red tape 'double whammy' of different rules around inspections and labelling to sell abroad and at home – two sets of regulations, rather than one.
Speaking ahead of her visit to the Devon County Show today, Environment Secretary Elizabeth Truss said:
Devon is home to more than a third of all the beef farms in the South West, and its farmers benefit from having the world's largest single market of half a billion customers on their doorstep, buying 93 per cent of our beef exports.

This European market is vital not just for Devon's farmers, who are rearing top-quality beef cattle, but for the county's huge food manufacturing sector, which creates even more local jobs. Leaving the EU is a leap in the dark which would put these jobs at risk and threaten the livelihoods of the region's 60,000-plus agricultural workers.

Farmers in Devon and across the UK, are safer, stronger and better off as part of a reformed EU.
EU member Ireland is the biggest consumer of British beef, with exports there worth £110m in 2015, followed by the Netherlands and France. By comparison, last year our beef exports to non-EU countries were worth a mere £23m. Our farmers don't have to face the high tariffs that some other countries do to trade with the EU—up to 70 per cent for beef products—which could cost around £240million per year and decrease our competitiveness.
Devon beef farmers also enjoy EU Protected Food Name status for their West Country Beef—joining an elite club of products across Europe awarded this prestigious status, such as Feta cheese and Parma ham. This recognition protects West Country Beef from imitation, helps consumers recognise the product as traditional and authentic, and acts as a valuable mark of quality in the competitive international marketplace.
Producers who register their beef for protection benefit from raised awareness of their product throughout Europe, helping them take advantage of consumers' increasing awareness of the importance of regional and speciality foods and giving a boost in sales to help grow the local economy.
Rearing cattle for beef was the second-greatest contributor, after dairy, to the farming sector's output in the South West in 2014, accounting for £351m.
Further information
Published 19 May 2016