Development Secretary visits Libyan Tunisian border
Development Secretary Andrew Mitchell visited the border to see what more Britain can do to help avoid a major humanitarian crisis.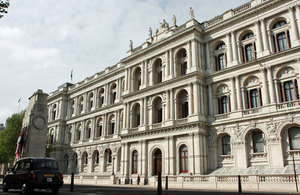 Spending time in the transit camp just beyond the border area near Ras Ajdir, the Development Secretary met some of the 179,925 displaced migrant workers who have been leaving Libya since 20 February.?
?
Speaking from the Libyan Tunisian border, Andrew Mitchell announced that the UK will send two air logistics officers to support the increasingly pressurised Djerba airport, now the hub for incoming humanitarian supplies and outgoing repatriation flights as individuals are evacuated from the border.
?
The air logistics experts will work directly for the UNHCR and the Tunisian authorities to ensure the smooth running of the airlift operation.?
?
In addition, a second UK flight carrying tents and blankets will leave Dubai today for the camps. They will deliver 2,000 blankets and 1,100 tents to provide shelter for 5,500 people. This follows the first contingent of 36,000 blankets and tents to shelter 1,500 people on Tuesday. ?
??
Three UK charter planes continue to work on rotation to fly people away from the camps and back to Cairo, relieving the pressure on the border and the transit camp.?
?
So far, 12 flights have left Djerba carrying 3,135 people to Cairo where they are being met by the Egyptian authorities.?
Published 4 March 2011