Press release
Development Secretary meets UK Somalis in Ealing
Justine Greening met with members of the UK's Somali community in London to discuss Britain's aid and development programmes across Somalia.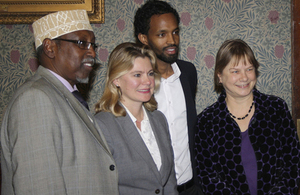 Ms. Greening set out the UK government's plan to create a more peaceful, stable and prosperous Somalia after years of conflict. She also set out different government departments are working to enable remittance payments to continue to flow in to the country.
Justine Greening said:
"The links between the UK and Somalia are very strong. I want to hear from Somali people based here in London about what they want DFID's programme in Somalia to focus on. Together we can help the country and its people reach their full potential after years of devastating conflict.
"I understand that remittances are an important way for Somalis in the UK to support their friends and family back home. They also support development.
"That is why my department is championing a number of initiatives to keep these vital channels open while making payments secure and ensuring they get to the people they are intended for."
The meeting was attended by leaders of Somali communities from London, Luton, Sheffield and Bristol.
The UK Government works closely with Somalia to tackle the root cause of poverty, hunger, disease and terrorism. Its programme focuses on governance and peace-building, creating jobs, improving health care and providing humanitarian assistance.
By 2015, Britain's aid programme will help:
secure new private sector jobs and training for 45,000 people, including 15,000 women
700,000 people benefit from agricultural or livelihood assistance to grow their own crops
61,000 young children to avoid acute malnutrition.
More detail of the UK government's work in Somalia is available here
The UK government is also committed to supporting a robust and secure remittances sector. DFID, in conjunction with the National Crime Agency, HM Treasury, HM Revenue and Customs and Financial Conduct Authority, will work to develop a safe corridor pilot for the UK-Somalia corridor over the next 12 months. DFID will also work with the World Bank to support the development of an audit mechanism and training and capacity building of money transfer operators in Somalia over the next 12 months. Full details of the UK Government's action in this area is published here.
General media queries
Follow the DFID Media office on Twitter - @DFID_Press
Published 9 January 2014