Developing UK relations with the Gulf
Minister for the Middle East Alistair Burt and colleagues from his Gulf Initiative Ministerial group met Ambassadors from the Gulf Co-operation Council states on Thursday 13 October at the Foreign Office.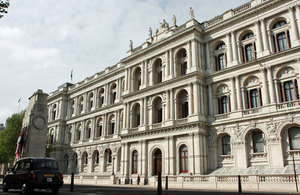 The Minister for the Middle East updated Ambassadors on how the Government was working to realise its determination to upgrade its relations with the Gulf.
The Ministers and Ambassadors reflected on the successful cooperation between the UK and GCC countries over the last year across a broad range of issues. They discussed progress on regional security, trade and investment, energy and climate change, education and culture and foreign policy and international development, and how this could be developed further. Central to this was the impact of the Arab Spring.
Mr Burt and his colleagues welcomed the Ambassadors' suggestions as to how they could work more closely together:
"Strengthening the links between our government and the GCC Ambassadors in London is a crucial part of our ongoing drive to enhance relations with the Gulf. I want this to continue and welcomed the opportunity to hear from Ambassadors themselves how they think we can best do this. Our relations with Gulf Partners continue to grow and we remain committed to strengthening them further. "
The following Ambassadors and Senior Officials attended the meeting:
His Excellency Mr Khaled Al-Duwaisan GCVO, Ambassador of the State of Kuwait and Dean of the Diplomatic Corps
His Excellency Ms Alice Samaan, Ambassador of the Kingdom of Bahrain
His Excellency Khalid Rashid Al-Hamoudi Al Mansouri, Ambassador of the State of Qatar
His Excellency Abdulrahman Ghanem Almutaiwee, Ambassador of the United Arab Emirates
HRH Prince Mohammed bin Nawaf Al-Saud- Ambassador of the Kingdom of Saudi Arabia
Yousuf Ahmed Al Jabri- Deputy Head of Mission, Embassy of Sultanate of Oman
Alistair Burt MP, Foreign & Commonwealth Office
Lord Astor, Ministry Of Defence
Alan Duncan MP, Department for International Development
Lord Hill, Department for Education
James Brokenshire, Home Office
Charles Hendry, Department for Climate change and Energy
Lord Sassoon, HM Treasury
Martin Davidson, CEO British Council
Published 14 October 2011