News story
Developing realistic trauma simulation models
Case study from Swansea-based Trauma Simulation Limited who showcased at DSEI 2015.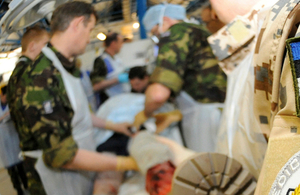 Trauma Simulation Limited was funded by the Centre for Defence Enterprise (CDE) to develop a realistic trauma simulation model for massive lower limb and pelvic injury. The model could be used to help military medical personnel, from first responders to surgeons, train for how to respond to major battlefield injuries.
The model reproduces patterns of injury and bleeding encountered by surgical teams in combat zones and uses advanced materials to simulate the properties of different human tissue. The model was created using a silicone 'copy' of a 3D-printed master and based on CT scans of a former patient.
Professor Ian Pallister, Founder of Trauma Simulation says:
The support from CDE has allowed the development of models, which I had envisaged, but had been impossible to make a reality. In due course, these models will be distributed commercially and their use may help save the lives of those injured in future conflicts.
Trauma Simulation is a Swansea University spin-out, founded as a result of 'the medic of the future' CDE themed competition.
About CDE
CDE funds novel, high-risk, high-potential-benefit research. We work with the broadest possible range of science and technology providers, including academia and small companies, to develop cost-effective capabilities for UK armed forces and national security.
CDE is part of Dstl.
Centre for Defence Enterprise
Building R103
Fermi Avenue

Harwell Oxford
Oxfordshire
OX11 0QX
Email cde@dstl.gov.uk
Telephone +44 (0)30 67704236
Alternative number +44 (0)30 67704237
Please email for the quickest response.
Published 16 September 2015
Last updated 18 September 2015
+ show all updates
Link to DSEI presentation slides now available
First published.