Press release
Details of government's major projects revealed
Information about major projects underway by the government has been published for the first time.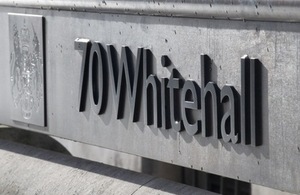 Today the performance of the government's most expensive and important projects has been revealed for the first time. These projects are worth over £350 billion and affect all of our lives. The Major Projects Authority's (MPA) annual report overturns Whitehall secrecy and will help further improve project delivery.
Before the last General Election there was no central picture of how projects were performing. Since its launch in 2011 the Major Project Authority has had a significant effect and is ensuring each major project is reviewed regularly.
This means that:
the MPA has helped save taxpayers over £1.7 billion - £100 per working household.
the success rate (running to time and budget) is set to more than double for these projects
the MPA has used its extensive powers to re-scope or close failing projects, such as FiReControl and the NHS National Programme for IT
Francis Maude, Minister for the Cabinet Office, said:
Major projects need scrutiny and support if we are to succeed in the global race. Publishing this report will transform the management of expensive, important projects and will help hold Whitehall to account.

I was staggered when I came into government and found a relaxed approach to managing projects worth hundreds of billions of pounds. Problems were swept under the carpet where they festered at the taxpayers' expense. In many places the civil service lacked project management skills and had a lamentable record of project delivery.

Since the General Election we have got things back on track and are equipping the civil servants with the skills they need. Our new Major Projects Authority has helped save over £1.7 billion – that's £100 per working household. There's much more to do but thanks to the work of excellent officials we now expect to double the success rate of major projects, compared with the figures from 2010.
David Pitchford, Head of the Major Projects Authority, said:
I've led major projects around the world and I have to say that when I started this job in the UK standards were not great. There have been big changes and Britain is now well on the way to becoming world-class. The Major Projects Authority has real power to intervene in failing projects and stop taxpayers' money being wasted. Of course it's just the start, we must keep up the pressure all the time – our annual report will make sure that happens.
The MPA report identifies that despite significant progress since 2010 there are still weaknesses which require attention. Approaches to project management vary and decisions are often made in reaction to circumstances rather than as the result of effective planning. To address this, the government is introducing further reforms:
a standardised portfolio management system for departments to handle projects
a single online database to record successes and failures from past projects
The Major Projects Leadership Academy, launched with the University of Oxford's Saϊd Business School and Deloitte, will trail everyone who leads a major project
the lack of project-leadership skills is being addressed through the Civil Service Reform programme.
The government has committed to enhancing the MPA to drive up standards. This work will build on the Getting a Grip report by the Lead Non-Executive Director for Government, Lord Browne of Madingley, published in March 2013.
Notes to editors
The Major Projects Authority annual report is published here. Individual project data, including RAG ratings, is published on departmental websites. To reflect the balance between the scrutiny which transparency secures, and the natural sensitivities around such projects, the data is published 6 months in arrears.
Read Lord Browne's report, 'Getting a grip: How to improve major project execution and control in government'
Data will be published on the Government's Major Project Portfolio (GMPP) of 170 projects. Data has been exempted from 21 projects, with RAG ratings spread across the scale, where disclosure would damage commercial interests or national security.
Published 24 May 2013