Press release
Details of £2.2 billion roads plan for the South East
Twenty miles of extra lanes coming to the region, £2.2 billion invested by 2020 and 24 major improvements to start by 2020.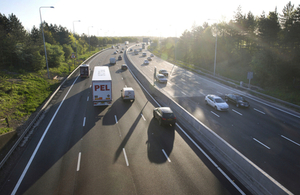 Highways England today (Thursday 24 September) met with suppliers to set out how £2.2 billion of government investment to improve the capacity and condition of roads in the South East will be delivered.
The investment will see improvements and repairs along a series of motorways and A roads between now and 2021, giving road users simpler, faster and more reliable journeys. It will also boost the area's economy and help to bring the country closer together.
The work is part of the government's 'Road Investment Strategy' to triple levels of spending on roads by the end of the decade, which was announced last year. Highways England, the government-owned company which took over responsibility for England's motorways and major A roads earlier this year, set out its plan for the South East at an event at the Mandolay Hotel in Guildford earlier today (Thursday 24 September).
Work will start on 24 new major projects by 2020, in addition to upgrades already underway on the M3, A21 and M25 at junction 30, cutting congestion and improving journey times for drivers.
Maintaining the existing network is also top priority, with £200 milion being invested in maintenance this year alone. More than 18,716 metres of safety barrier and fencing will be replaced or maintained along with nearly 7070 road lights. Ninety-one (out of 171) road signs will be replaced.
And Highways England will keep a relentless focus on safety, aiming for a 40% reduction in road casualties by 2020.
Roads Minister Andrew Jones said:
Roads are key to our nation's prosperity. For too long they have suffered from under investment.

The government has a long term plan to secure the country's economic future. This £2.2 billion investment in the region's roads will directly benefit hardworking families across the South East.
Simon Jones, south east regional director at Highways England, said:
Around 8.7 million people live and work in South East England, more than any other region, and our 932 miles of major roads are some of the busiest in Europe. The M25 alone is used to make an estimated 1 million journeys every day. We're delivering £2.2 billion investment in improvements to the South East's motorways and major A roads over the next five years.
That includes nearly 150 miles of extra lanes, new junctions, and measures to tackle congestion, benefitting businesses, local residents and road users as well as delivering a fourfold return on investment for the UK economy.
It's vital that we continue to improve the existing road network as well, which is why we're investing over £200 million this year alone in resurfacing, improving technology and safety measures and other maintenance projects.
"The region's motorways and dual carriageways are vital for our economy and this huge investment will ensure they remain fit for purpose for many years to come."
Underpinning the way in which we plan and coordinate future interventions on the network, from an operational, maintenance and modernisation perspective, are our route strategies. Working closely with Local Enterprise Partnerships and other local partners and stakeholders, we will use route strategies to identify current and future constraints to economic growth that the performance of the strategic road network potentially causes, and identify how future delivery and investment plans might address them.
We have completed the first set of route strategies and we are beginning to develop the next set.
Major upgrades that will begin in the South East over the next 5 years include:
enhancing capacity on the M3 between Winchester and Southampton
enhancing capacity on the M27 between Southampton and Fareham
upgrading the M20 near Maidstone to a smart motorway
upgrading the M4 to a smart motorway between Reading and the M25
tackling congestion on the A21 between Tonbridge and Pembury
upgrading the A27 in Sussex
improving junctions on the A2 near Bean and Ebbsfleet
improving the A34 between the M4 and M40
increasing capacity on the M2 between Sittingbourne and Maidstone
improving junctions on the M3 near Winchester
improving the M27 and M271 near Southampton
tackling delays on the A31 near Ringwood in Hampshire
improving access to the A12 and A3 from the M25
upgrading the M25 to the latest generation of smart motorway, with five lanes between the M40 and Chertsey
developing plans to reduce congestion on the A3 near Guildford
developing plans for an additional Lower Thames Crossing
Ken Simmonds, Highways England's major projects director for the south, said:
These schemes will bring significant long-term benefits to road users on motorways and major A roads in the South East, as well as to local residents and the economy as a whole.
The construction work will, of course, bring some disruption in the short term but we will ensure that we keep this to a minimum to keep traffic flowing.
When the schemes are completed, road users will experience safer, more reliable and less congested journeys.
More details are available on the Highways England's five-year plan.
General enquiries
Members of the public should contact the Highways England customer contact centre on 0300 123 5000.
Media enquiries
Journalists should contact the Highways England press office on 0844 693 1448 and use the menu to speak to the most appropriate press officer.
Published 24 September 2015