Press release
Descendants invited to Jutland centenary commemorations
The Orkney Islands will host a commemorative event for descendants of those who fought in the Battle of Jutland.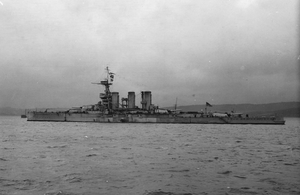 Descendants of those who served at sea in the First World War are invited to take part in commemoration events marking the 100th anniversary of the Battle of Jutland, Culture Secretary John Whittingdale announced today.
The Orkney Islands commemorative events will include a morning service on 31 May 2016 at St Magnus Cathedral, Kirkwall, followed by a ceremony at the Lyness Royal Naval Cemetery at Hoy, where over 400 Commonwealth servicemen and German sailors from the First World War are buried - some as young as 16.
The Battle of Jutland was the most significant naval engagement of the First World War with over 100,000 sailors involved on 250 ships. More than 6,000 Royal Navy and 2,500 German sailors lost their lives.
Secretary of State for Culture John Whittingdale said:
The Battle of Jutland was the biggest and most brutal naval battle of the First World War, claiming the lives of thousands of men. For Jutland's 100th anniversary next year, we want to commemorate the heroism and sacrifice of all who served. I am sure that their relatives, along with others from across the country, will want to attend these events in Orkney. It is a chance to pay tribute to the extraordinary bravery of so many of our countrymen.
The closing date for applications was Friday 22 January 2016. We are no longer accepting applications.
David Evennett MP said:
My own grandfather fought in the Battle of Jutland.
It is only right that there will be the opportunity for others, like me, across the country, to remember their relatives who fought so bravely at sea during the First World War.
There will also be a series of other events across the country to mark the centenary of the Battle of Jutland. These include:
A service of remembrance at sea on Jutland Bank by British and German ships;
Royal Navy remembrance events in Chatham, Plymouth and Portsmouth;
The opening of HMS Caroline - the only surviving ship that saw action at the Battle of Jutland - in Belfast as a museum and visitor attraction; and
The laying of commemorative paving stones to remember the four Victoria Cross recipients from the Battle of Jutland.
Mr Colin Kerr, from the Commonwealth War Graves Commission said:
More than 6,000 men died during the Battle of Jutland, and are commemorated by the CWGC from Denmark and Norway, to Orkney and Edinburgh, and Plymouth and Portsmouth to Chatham. We hope the public will join us at next year's commemorative events, as we gather across the country to remember those who served and all those who died during the war at sea.
Lieutenant Commander Rob Whitworth (Royal Navy) whose Great Grandfather, William Henry Swan served on board HMS WARRIOR as Chief Engine Room Artificer (mechanic) during the Battle of Jutland, said:
Researching my Great Grandfather's role during the battle has helped me to understand my family's place in history. It's easy to become overwhelmed by large numbers and to lose sight of the personal stories of those that took part. Speaking to descendants and remembering their families' individual stories helps to preserve the memories of those that lost their lives. I'm proud to be able to share my Great Grandfather's story and would encourage others to do the same and attend events in 2016.
Published 11 December 2015