Derailment of tram near Mitcham Junction, London
Investigation into the derailment of a tram on the Croydon Tramlink system, 29 December 2014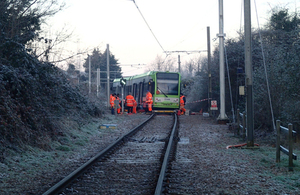 At about 23:55 hrs, a tram travelling from New Addington to Wimbledon derailed shortly after leaving the tram stop at Mitcham Junction, while travelling at about 11 km/h (7 mph). There were about 20 passengers, plus the driver, on board the tram, and no-one was hurt. There was some minor damage to the tram.
To the west of Mitcham Junction tram stop, the single tram line becomes two lines at a set of spring-operated points. On leaving the tram stop, the tram driver noticed that an indicator, which shows the position of these points, was indicating that the points were not correctly set. He stopped the tram before reaching the points, and after speaking to the tramway control room by radio, he left the tram and used an operating lever to manually move the points until he observed that the indicator was showing that they were correctly set. He then drove the tram slowly over the points, but the centre bogie and one wheelset of the trailing bogie became derailed.
Our investigation will focus on the points mechanism and the way that it behaves in degraded operating conditions.
Our investigation is independent of any investigations by the safety authority or the railway industry. We will publish our findings, including any recommendations to improve safety, at the conclusion of our investigation. This report will be available on our website.
You can subscribe to automated emails notifying you when we publish our reports and bulletins.
Published 9 January 2015