Press release
Deputy Prime Minister's message for Human Rights Day 2013
The Deputy Prime Minister, Nick Clegg, has written a message for Human Rights Day 2013.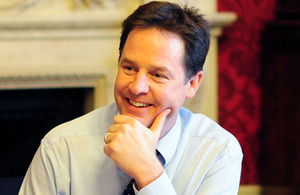 Nick Clegg on Human Rights Day 2013:
This year, Human Rights Day falls just days after the sad news of Nelson Mandela's death. This great man dedicated his life to building a world where people can live on equal terms in peace, freedom and prosperity.

Since the Universal Declaration of Human Rights was first enshrined, it is extraordinary people like Mandela and the brave citizens who stand with them who have driven the global movement for political, economic and social rights.

Time and time again, their voices have proved louder, and their actions more powerful, than those who would abuse and oppress them. Today, on Human Rights Day, we remember the courage and sacrifices of these people.

We also recommit our support to those around the world campaigning in their own societies for free expression; democratic participation; equality before the law; the right to peaceful protest; the right to be educated and the chance to work. There can be no better way to keep Nelson Mandela's memory alive than to continue this global fight for equality, human dignity and respect.

Our country is founded on these rights and values. And the UK will always be on the side of those who support political freedom, social justice and economic empowerment. Through our membership of the United Nations Human Rights Council, and beyond, we will work to promote and protect these universal rights.

This Human Rights Day, we can all use our own freedom of expression to help those to whom it is denied. Through Amnesty International UK's Write for Rights campaign, you can send a message of hope to someone suffering human rights abuses and let those in power know that these people and their causes will not be forgotten.
Published 10 December 2013