Deputy Prime Minister supports World Mental Health Day
Deputy Prime Minister Nick Clegg made a statement in support of World Mental Health Day.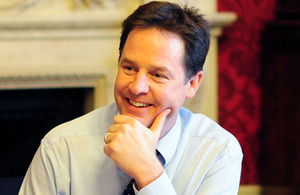 This year, World Mental Health Day highlights the 350 million people worldwide affected by depression.
Good mental health should never be taken for granted. Without it, we suffer just as much as we do with physical health problems.

It's time we turned more of our attention to helping people with mental health problems. This year, the focus of the day is on depression. And for good reason. It's a serious condition that can hamper your ability to do a regular job, affect your relationships and be totally debilitating for those with long-term depression.

We have some outstanding NHS services in this country providing revolutionary treatments. We have fantastic charities who campaign every day to raise the profile of mental health and battle the stigma that sadly still exists. The coalition Government has put mental health much higher up the agenda and I'm proud of the progress we have made to change things. We're investing £400 million in psychological and talking therapies which is a very significant expansion of the services available. More than half a million people were helped by these services last year. But with roughly 25 per cent of the population experiencing mental ill health in their lifetime, we know we have much more work to do.
You can also read a blog from the Deputy Prime Minister about postnatal depression on Netmums.
Published 10 October 2012