Press release
Deputy Prime Minister Nick Clegg meets with President Santos in Colombia
The Deputy Prime Minister Nick Clegg met with President Juan Manuel Santos at the Presidential Palace in Colombia today as part of his record breaking trade visit to Latin America.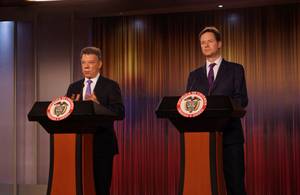 At the meeting the Deputy Prime Minister reinforced the increasingly strong political dialogue between the UK and Colombia and discussed the growing economic relationship; in particular, the deepening science, innovation and education links between the UK and Colombia.
The Deputy Prime Minister has also announced a new bilateral target and investment of £4 billion by 2020, having met the 2015 target of £1.75 billion.
Other issues discussed included:
the peace process - The Deputy Prime Minister re-emphasised the UK's support to Colombia in the ongoing peace process as negotiations with the Revolutionary Forces of Colombia (FARC) continue
human rights - President Santos's commitment to establishing a 'zero tolerance' approach to human rights abuses was welcomed by the Deputy Prime Minister; they discussed the need to focus on protecting human rights defenders throughout the process
Published 3 February 2014