Deputy Prime Minister delivers key speech at Organisation for Security and Co-operation in Europe Summit
Nick Clegg told the Summit that OSCE members must remember its original principles of liberty, security and peace, and work towards making any conflict between its members unthinkable.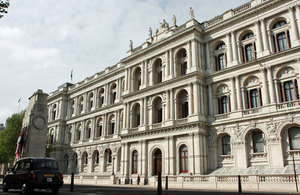 The Deputy Prime Minister said: "35 years ago our predecessors came together, driven by their common needs, and created a space in which conflict became less likely. The question now for us is: can we make it unthinkable?
I believe we can, but it will require a renewed commitment to each other, to the principles that govern our partnership: liberty, security, peace, and the rights and freedoms on which this organisation was founded.
In the 21st Century, authority depends on moral leadership. The new UK government takes that extremely seriously."
The Deputy Prime Minister went on to emphasise the importance of OSCE engagement on issues such as stability in Afghanistan, including securing the Northern Supply Route.
He said: "It is right that we focus our efforts on Afghanistan's northern border - the front-line against the trafficking of drugs, weapons and people. A critical frontier in the fight to keep our own people safe. The UK encourages the OSCE to continue securing that border."
He went on to illustrate the UK's commitment by announcing a contribution to the OSCE Border Staff College in Dushanbe, Tajikistan. This will help central Asian nations to ensure more effective border management on issues including drug smuggling and counter-terrorism.
The Deputy Prime Minister also emphasised the need for OSCE members to do more to meet their human rights commitments, saying, "The UK is clear: it is the duty of every state here to treat its people, all people, with dignity and respect.
"Blocking election monitoring, silencing the free media, wrecking the growth of civil society -these actions cannot be hidden; they cannot be ignored; and they drive us apart at a time when we are better off together."
Referring to protracted conflicts in the region, the Deputy Prime Minister said: "Where conflict still persists, we must seek resolution in good faith and with conviction".
He called for a resumption of talks on Moldova/Transnistria, further progress by the Minsk Group on Nagorno-Karabakh, and progress on the Geneva talks on Georgia.
Before his speech, the Deputy Prime Minister had a bilateral meeting with the Foreign Minister of South Korea, Kim Sung-hwan, where he reiterated in person the UK's strong condemnation of North Korea's recent attacks and emphasised continuing support in dealing with such provocation. In his speech, he added that such acts should be met with 'global opprobrium'.
At the summit, Mr Clegg has also held meetings with Secretary-General Ban Ki-moon of the United Nations, Chancellor Merkel of Germany, President Gul of Turkey, Prime Minister Fillon of France, Prime Minister Berlusconi of Italy, President Halonen of Finland, President Otunbayeva of Kyrgyzstan, President Aliyev of Azerbaijan, President Sargsyan of Armenia, President Basescu of Romania, Foreign Minister Sikorski of Poland and US Secretary of State Hillary Clinton
Published 1 December 2010