Deputy Prime Minister attends listening event on NHS modernisation plans
Nick Clegg and Paul Burstow heard views of patients at the first listening event on NHS modernisation plans exclusively for service users.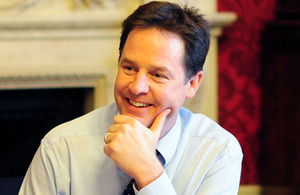 Following a tour of the stroke and outpatients wards at the Chelsea & Westminster Hospital the Deputy Prime Minister and Health Minister heard from a group of over 30 patients from the local area to hear their views and discuss modernisation plans.
They were joined by Professor Steve Field who is leading the NHS Future Forum to drive engagement in the ongoing listening exercise.
The Prime Minister, Deputy Prime Minister and Health Secretary recently announced that the Government would use the natural break in the parliamentary timetable to pause, reflect and improve upon their proposals to modernise the NHS and safeguard it for the future.
Speaking after the event, Deputy Prime Minister Nick Clegg said:
I've learnt a lot today about how the public feels about our changes to the NHS and I'm confident that by taking this chance to pause and really engage with staff and patients, we can ensure that we modernise the NHS to improve the health service for everyone.
Care Services Minister Paul Burstow added:
This is the first listening exercise I've been able to take part in and I'd like to thank the patients who took the time today to share their views with us.
Published 27 April 2011