Deputy PM announces £214 million investment in cycling
The biggest single investment in cycling will be unveiled by Nick Clegg today to help make it easier and safer to get on your bike in the UK.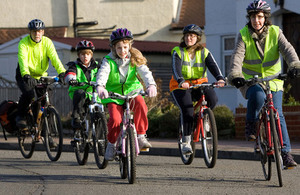 In July, the Deputy Prime Minister said he wanted to see the number of journeys made by bike more than doubled by 2020. Today, at a dedicated cycling summit hosted by him in Bristol and attended by Chris Boardman MBE, the Deputy Prime Minister will discuss how the government can make this happen with a package of measures totalling £214 million.
The investment will include:
£114 million to secure funding to support the Cycling Ambition Cities Programme for the next 3 years (Bristol, Birmingham, Cambridge, Leeds, Manchester, Newcastle, Norwich and Oxford) accelerate their development of local cycling networks, increase protection for cyclists at junctions and traffic hot spots and help prevent accidents
£100 million investment over the next years to improve the conditions for cyclists and walkers travelling alongside and crossing Britain's most important and busiest roads – what's called the Strategic Road Network
This brings the total invested in cycling by the government to £588 million.
The Deputy Prime Minister said:
I want to bring cycling down from the Alps and onto British streets. The inspiration and legacy of the 2012 Olympics and the Tour de France starting in Yorkshire this year has started a revolution in cycling for everyone, not just in velodromes, not necessarily in lycra, but for going to school or to work or to the shops.

I'm committed to helping our dream of becoming a cycling nation, similar to places like Denmark and the Netherlands, become a reality.

The rewards could be massive. Billions of pounds in savings for the NHS, less pollution and congestion, and a happier and safer population. In government, we're putting the money down: now we need the public and local authorities to jump on their bikes and get us to the finish line.
On top of this investment, The Deputy Prime Minister will also launch 2 new initiatives to help inspire a new generation of cyclists:
a new scheme from Halfords, which will recondition and donate bikes and helmets to primary school children in disadvantaged areas of the 8 current cycling cities
a new pilot scheme to enhance the Bikeability cycle training programme to provide extra training to schools and parents, each designed to address a specific barrier to cycling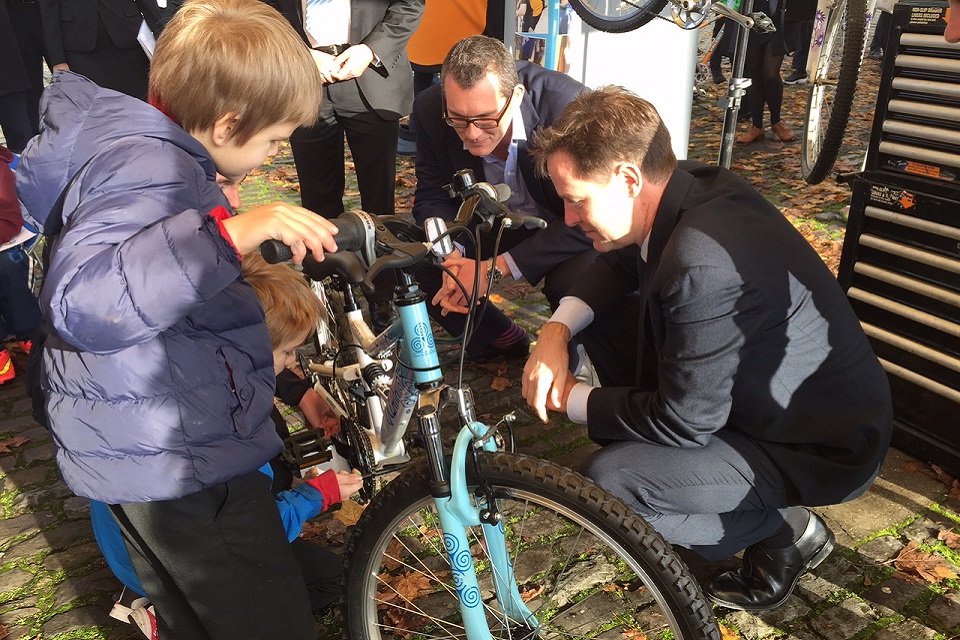 Olympic gold medallist Chris Boardman MBE said:
This is a great stepping stone on the road to creating a safer environment and enabling more Brits to choose cycling as their preferred mode of transport.

The new funds are fantastic for the 8 cycling cities – giving them more security to plan for the next 3 years and I thoroughly welcome the announcement. The benefits of cycling – as outlined by the Deputy Prime Ministers speech and in the press release – show how investing in cycling will pay dividends. If we want to a cycling revolution, something I truly believe we can achieve, we have to invest in it, commit to it long term.

To that end, the next step, building on today's announcement, is to make investment like this one a permanent, embedded and an ongoing part of our transport strategy. If we do, then the benefits for our nation's health, wealth and environment will be monumental.
Today's summit will be attended by local leaders, cycling experts and businesses who joined together to discuss how cities in the UK can seize the economic, social and environmental gains that come from being a cycling nation.
It follows recent research commissioned by British Cycling (pdf), which found that if the UK became a cycling nation like the Netherlands or Denmark it could:
save the NHS £17 billion within 20 years
reduce road deaths by 30%
increase mobility of the nation's poorest families by 25%
increase retail sales by a quarter
Over the past 4 years, this government has made significant investments in cycling by:
more than doubling funding for cycling to £374 million in 2011 to 2015 to improve cycling safety, infrastructure and availability and affordability of bikes for more people across the country
helping leverage an extra £248 million of local funding to deliver these programmes
giving Bristol and 7 other major UK cities (Birmingham, Cambridge, Leeds, Manchester, Newcastle, Norwich and Oxford) access to £94 million of grants to help them improve their cycling infrastructure and build a reputation as modern cycling cities
Transport Secretary Patrick McLoughlin said:
Under this government the Department for Transport has doubled the amount money available for cycling.

We want all new roads cycle-proofed, making cycling safer and encouraging awareness on our roads. This additional funding is about further improving the thousands of short journeys made by bicycle every day.
Published 27 November 2014