Delivered direct to your door: advice to make your home greener
Communities Minister Andrew Stunell today outlined plans for the new scheme that will enable homeowners and tenants to receive tailored advice…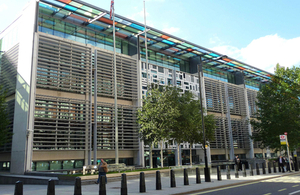 Communities Minister Andrew Stunell today outlined plans for the new scheme that will enable homeowners and tenants to receive tailored advice about how to make their homes greener and save money, delivered direct to their door.
Companies offering services to upgrade homes through the Government's Green Deal will be able to access information about the energy efficiency of properties that have an Energy Performance Certificate, and deliver tailored advice to individual homes. Proposals published today set out how the system for accessing this information will work.
The Green Deal is the Government's new and radical way of making energy efficiency available to all, whether people own or rent their property. Green Deal providers will carry work to upgrade properties so they become warmer and cheaper to run. Homeowners and tenants will have the opportunity to save money - with all the costs to upgrade the property paid back from the saving on energy bills.
Ministers have taken steps to make sure that the use of this information is subject to the most rigorous safeguards, and protected by tough data protection rules. These restrictions will ensure that:
no information about the identity of the homeowner or tenants is available on the register, only details about the energy efficiency of the property;
companies do not keep any records about properties that do not take up the scheme, and cannot share or sell the information to other organisations; and
homeowners and tenants will be able to opt out of receiving information from Green Deal providers.
Any correspondence from providers will only be for the purpose of informing homeowners and tenants about the improvements they could make to the property, and will clearly state that information about the property's energy efficiency has come from the register. 
Communities Minister Andrew Stunell said:
It's right that homeowners and tenants across the country are given the opportunity to make their homes warmer and cheaper to run. The Green Deal will lead to a revolution in energy efficiency of homes across the country - making the data available in this way will mean anyone with an Energy Performance Certificate for their home can choose to receive advice about how to make their home warmer and save money on energy bills. 

But I want to make sure that there is no compromise on personal privacy in the drive for greener homes. So any homeowners and tenants who don't want to be approached by Green Deal providers will be able to opt out - and organisations offering these services will be subject to the strictest safeguards. We will keep these proposals under constant review, and will include extra safeguards if necessary.
The Government is also taking steps to improve the quality of information in Energy Performance Certificates, to ensure they become more effective as a tool for reducing the carbon footprint of Britain's buildings. Measures to improve their quality include:
new robust operating requirements for energy assessor Accreditation Schemes together with clearer and streamlined guidance to explain the requirements for energy assessors;
tougher rules to ensure that the quality Energy Performance Certificates are consistent, and energy assessors who produce the certificates adhere to the Government's prescribed standards;
independent auditing supported by a new, standardised methodology for auditing the quality of the certificates, Accreditation Schemes and energy assessors. Monthly audit reports will need to be sent to the Department for Communities and Local Government; and
revised disciplinary procedures have been introduced to clarify the sanctions that apply when Accreditation Schemes fall short of Government requirements. So standards are enforced in a fair and consistent manner.
Related publications
Published: 28 January 2011
Site: Planning, building and the environment
Twitter
Keep up to date with the Department by following us on Twitter (external link).
Media enquiries
Visit our newsroom contacts page for media enquiry contact details.
Published 28 January 2011