Defra Ministers endorse campaign to protect farmland biodiversity
Encouraging farmers to voluntarily nurture wildlife on their land.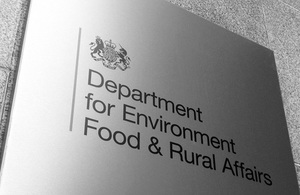 Minister of State for Agriculture and Food, Jim Paice, today announced that the Campaign for the Farmed Environment, an industry-led initiative which encourages farmers to voluntarily nurture wildlife on their land, is making progress and will continue, but farmers can still do more to ensure it continues to be successful.
Those taking part in the campaign are helping to improve biodiversity and protect soil and water quality by undertaking a range of environmental measures. These include providing habitats, food and shelter for farmland birds and creating buffer strips of uncropped land next to fields and watercourses.
Campaign partners are now encouraging farmers to go further and do as much as they can to support the campaign to help ensure its success by:
Undertaking at least one wholly voluntary measure outside any formal agri-environment scheme;
Signing up to Entry Level Stewardship (ELS) - either for the first time or by renewing their existing agreement - and ensuring that  they include key 'in-field' ELS options within their agreement; and
Retaining uncropped land.
Jim Paice, Minister of State for Agriculture and Food, said:
"The campaign has been making steady progress and the fact that farmers are volunteering to look after our biodiversity and natural resources is a great example of the Big Society at work.
"Progress has been made but we need to see farmers going further. The key priority for the campaign over the next 12 months will be to ensure as many farmers as possible renew their ELS agreements, and carry out at least one voluntary measure to benefit the environment."
ELS pays farmers for activities that encourage wildlife and protect water and soil quality - such as providing feeding and nesting habitat for skylarks, cereal stubbles to provide food for birds over the winter, and grassy buffer strips to prevent soil erosion and run-off.
Voluntary measures can include grass buffer strips next to watercourses, sowing beneficial wildflowers, and leaving cereal stubbles over the winter.
Notes
CFE is led by the farming industry, and the following partners are involved:
Agricultural Industries Confederation
Association of Independent Crop Consultants
Central Association of Agricultural Valuers
Country Land and Business Association
The Environment Agency
Farming and Wildlife Advisory Group
Game and Wildlife Conservation Trust
Linking Environment and Farming
Natural England
National Farmers' Union
The Royal Society for the Protection of Birds
The Department for Environment, Food and Rural Affairs
The CFE was announced in July 2009, and launched on 5 November 2009. Defra is providing up to £1.5m over three years - up to June 2012 - to support the Campaign.
While the campaign has national targets, it has a local focus.  Local liaison groups have been established in each of the campaign's 22 target counties in England to identify local priorities and how to best promote engagement in the campaign to local farmers.  Partners involved in the campaign have established a training programme for farm agronomists and advisers with some 800 advisers having completed the training package by the end of May and 1,500 expected to have been trained by the end of 2010. The campaign has also been promoted at events such as Cereals 2010 and the CLA Game Fair.
Published 17 August 2010