News story
Defra experts set to answer your questions about bovine TB
Leading experts on bovine TB will host Twitter Q&A sessions.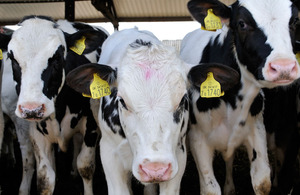 Over the next three weeks leading experts on bovine TB will be hosting Q&A sessions via the @DefraGovUK Twitter account to answer your questions about the disease and the action being taken to stop its spread.
Each session will last one hour and you can send in your questions for our experts using the hashtag #AskDefra
The dates of the three Twitter Q&A sessions and the themes they will cover are:
Tuesday 9 April 12.30-1.30pm
Nigel Gibbens, UK Chief Veterinary Officer
Themes: History of the disease in England, the impact of bovine TB and the measures used to prevent it's spread.
Nigel was appointed in May 2008 following previous experience in the State Veterinary Service and in policy roles on international trade, BSE controls, animal welfare and international relations co-ordination for Defra's Food and Farming Group as well as Government veterinary services in Belize and Yemen. Nigel worked in private practice in his early career, before joining the UK government services in 1990.
Thursday 18 April 12.30-1.30pm
Glyn Hewinson, Chief Scientist of the Animal Health and Veterinary Laboratories Agency
Themes: Vaccines for badgers and cattle, research on TB and other measures to reduce the spread of TB amongst cattle
Glyn Hewinson graduated in microbiology from Bristol University, UK, and obtained a Ph.D. in microbiology from the University of Oxford, UK. In 1996, he was appointed Head of the TB Research Group at VLA Weybridge, UK. His group was also responsible for the molecular fingerprinting of Mycobacterium bovis isolates for epidemiological purposes. This has resulted in a growing interest in the molecular evolution of M. bovis. Glyn was leader of the M. bovis genome-sequencing project and is a visiting professor at Imperial College, London, UK.
Wednesday 24 April 13.00-14.00pm
Professor Ian Boyd, Defra Chief Scientist
Themes: The science behind the the TB eradication strategy and the badger cull pilots
Professor Ian Boyd's is a member of the Scottish Science Advisory Council and is on the Board of Reviewing Editors of Science. Professor Boyd has received numerous honours and awards recognising his contributions to science, including the Scientific Medal of the Zoological Society of London, the Bruce Medal (awarded once every 4 years) for his research in Polar Science and has been elected as a Fellow of the Royal Society of Edinburgh, Scotland's National Academy, and is a Fellow of the Society of Biology.
Tackling bovine TB blog
If you are unable to take part, you will be able to read a Storify summary of each session on the Tackling bovine TB blog.
Published 5 April 2013
Last updated 9 April 2013
+ show all updates
Added image
First published.