Defra bites down on threats to sharks
Shark Conservation Plan shows how we intend to protect sharks, skates and rays under threat of extinction.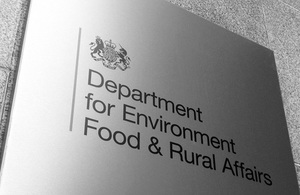 Sharks, skates and rays under threat of extinction should be given bespoke protection to help them recover faster, according to a new Government conservation plan launched today.
The plan outlines how Defra will continue to work nationally and internationally to allow threatened stocks of sharks, skates and rays to replenish and to ensure that healthier stocks are fished sustainably.
Richard Benyon, Natural Environment and Fisheries Minister, said:
"The plan we have published today shows how committed we are to ensuring that fisheries for these species are managed sustainably, and to work both at home and abroad to make it happen.
"The UK is leading the way internationally in trying to ensure a future for these species. We worked hard to protect vulnerable sharks, skates and rays at December's European Fisheries Council and at the recent meeting of the International Commission for the Conservation of Atlantic Tuna, and we will continue to push internationally for improvements wherever they're needed."
Ali Hood, Director of Conservation for the Shark Trust, said:
"The Shark Trust welcomes the Shark Conservation Plan as a major milestone in the UK's efforts to deliver meaningful shark management and conservation.
"Prompt implementation of the plan should greatly assist in delivering a sustainable future for UK sharks, however with shark populations regularly straddling the waters of multiple countries, the Trust encourages Defra to stand by its commitment to seek to influence other Member States and Regional Fisheries Management Organisations and make this plan truly effective."
The plan outlines how Defra will work to:-
make all catches of sharks, skates and rays sustainable and prioritise action to protect and restore the species most at risk;
improve our knowledge of shark, skate and ray fisheries through better data collection and scientific research and to use this information to improve fishery management;
encourage international conservation bodies to adopt and promote effective conservation measures for sharks, skates and rays; and
increase understanding, education and awareness of shark, skate and ray issues, working in partnership with the fishing industry and NGOs.
Published 14 January 2011