Press release
Defra approves sale of Sequoia for use only in greenhouses
Defra has approved a request from Dow AgroSciences Ltd to sell the pest control product Sequoia in the UK for use only in greenhouses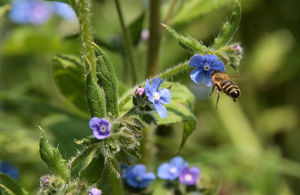 Sequoia contains the active ingredient Sulfoxaflor which was approved by the EU in 2015 following assessment by the European Food Safety Authority (EFSA).
The Government's decision follows a full assessment by the Health and Safety Executive (HSE) and the UK Expert Committee on Pesticides (ECP).
A Defra spokesperson said:
The Health and Safety Executive and the Expert Committee on Pesticides recommended that Sequoia should be authorised for use in greenhouses as they assessed the risk to bees and pollinators to be low. In line with commitments to be led by the science, Ministers have accepted this recommendation.
Both organisations concluded Sequoia used in greenhouses meets the requirements for authorisation as the risk to pollinators is low.
Our priority is the protection of people and the environment which is why decisions on the use of pesticides are based on a careful scientific assessment of the risks.
This decision is consistent with the EU's recent decision on neonicotinoids, which bans the outdoor use of neonicotinoids while allowing continued use in greenhouses. Further information is online.
Published 11 October 2018