Defence Secretary welcomes extension of NATO mission over Libya
The North Atlantic Council decided yesterday to extend the current mandate of Operation UNIFIED PROTECTOR, while keeping the situation under…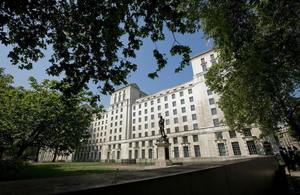 The North Atlantic Council decided yesterday to extend the current mandate of Operation UNIFIED PROTECTOR, while keeping the situation under regular review.
NATO issued a statement saying:
Together with our partners, NATO has been remarkably successful in fulfilling the mandate of the United Nations. But while threats to civilians persist, we will continue to protect them under the mandate confirmed unanimously in United Nations Security Council Resolution 2009, and at the request of the National Transitional Council.

We are determined to continue our mission for as long as necessary, but ready to terminate the operation as soon as possible. While the technical rollover is for up to 90 days, the review will allow us to end our tasks at any time.

We will do this in co-ordination with the United Nations, taking into account United Nations Security Council Resolution [UNSCR] 2009, and in line with the will of the Libyan authorities.

This decision sends a clear message to the Libyan people. We will be there for as long as necessary, but not a day longer, while you take your future in your hands to ensure a safe transition to the new Libya.
Dr Fox said yesterday:
The UK Government strongly welcomes today's announcement by the NATO Secretary General that the North Atlantic Council is extending NATO's mission to protect the people of Libya for another 90 days.

The UK has been at the forefront of the campaign since the outset and, as the Prime Minister has made clear throughout, the UK will maintain its commitment for as long as it is required.
Our support for the people of Libya at this critical time is unwavering and NATO's mission to protect civilians must continue until it is no longer necessary.

That's why we have decided to keep 16 Tornado aircraft on operations to sustain the required fast jet sortie rate and we intend to keep two attack helicopters in theatre for as long as required.

The good progress made to date will allow us to bring home four Typhoon fast jets and three attack helicopters in the near future without affecting our ability to continue enforcing UNSCR 1973.

The contribution made by UK Armed Forces under Operations UNIFIED PROTECTOR and ELLAMY has been and continues to be significant. Since the start of military operations in March, Royal Navy, Royal Air Force and Army Air Corps strikes have damaged or destroyed more than 970 former regime targets that threatened the Libyan people.
Major General Nick Pope, the Chief of the Defence Staff's Communications Officer, said today:
British forces were again in action yesterday over Libya, as part of NATO's Operation UNIFIED PROTECTOR.

In the early hours of Wednesday morning, an RAF armed reconnaissance patrol of Tornado and Typhoon aircraft were tasked by NATO to strike two command and control facilities which had been identified in Sirte. Our aircraft used 1,000-pound [454kg] and 500-pound [227kg] laser and GPS guided Paveway bombs to engage both targets successfully.

At sea, Royal Navy vessels, including the destroyer HMS Liverpool, remain on patrol off Libya, ensuring the safety of shipping and providing an invaluable surveillance capability along the coast.
Published 22 September 2011