Defence Secretary visits Washington
In his first visit to the United States since his appointment as Defence Secretary, Philip Hammond has travelled to Washington to meet his American counterpart, Secretary Leon Panetta.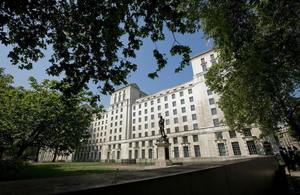 Mr Hammond will be undertaking a number of engagements including a meeting at the Pentagon following President Obama's statement on the US Defence Review. He and Secretary Panetta will also discuss the progress of the ongoing NATO operation in Afghanistan, where British and American troops work alongside each other training and mentoring Afghanistan's own security forces.
On the day that the US Government has announced reductions in defence spending, discussions will take place on the future challenges faced by the North Atlantic alliance as defence budgets across the world continue to be affected by the worldwide economic situation.
This was also a subject Mr Hammond focused on in an address to the Atlantic Council think tank during his visit to Washington.
He urged the alliance to beat the challenges of worldwide economic austerity by finding new ways of working together and identifying greater capability from resources that exist.
Reminding the audience that the Cold War was won because the Soviet economic system failed, the Defence Secretary described the debt crisis as the greatest strategic risk to the future security of both the UK and the US. Military power and economic power are, he said, inseparable.
But Mr Hammond cited the example of the campaign to protect civilians against the threat of the former Libyan regime as an example of NATO's continuing crucial role in the modern world. He said its flexibility, with an ability to quickly accommodate external partners for specific operations, makes it the most powerful alliance in the world and the most successful tool for collective defence ever invented.
Speaking from Washington, Mr Hammond said:
I look forward to meeting my US counterpart, Secretary Leon Panetta, to discuss our shared interests and how our two countries will face the threats of the future. The US Defence Review today has shown that no-one is immune from the economic situation and that it is not just the UK that has had to take some tough but necessary decisions in defence.
I was also delighted to have the opportunity to address the Atlantic Council on such a vital topic for world security as the future of NATO.
The United States is Britain's closest military partner. One only needs to look at Afghanistan, where British and American troops are working together, alongside other international partners, to defeat extremism and develop the country's homegrown security forces, to see the value of that partnership.
Published 5 January 2012