Defence Secretary visits UK troops in Germany
The visit to the troops from the regiments, both of which are part of 7th Armoured Brigade (The Desert Rats), allowed the Secretary of State…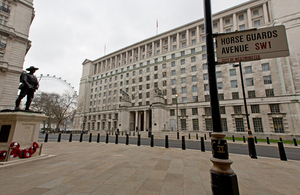 The visit to the troops from the regiments, both of which are part of 7th Armoured Brigade (The Desert Rats), allowed the Secretary of State to meet with soldiers who have recently returned from operations in Afghanistan, as well as those preparing to deploy.
Mr Hammond spoke to soldiers and listened to their concerns about the future.
He also told troops that he hoped to be able to make an announcement later in the year which would include more details about how and when the return of Service personnel and their families to the UK will be managed.
He said:
The soldiers and their families want certainty and we are working hard to provide that clarity at the earliest opportunity.
I understand their concerns and want to reassure them that we won't move anybody until we have the right infrastructure in place in the UK.
Mr Hammond's visit also featured demonstrations of various types of military equipment and vehicles, including a Challenger tank, and was a chance to speak with soldiers about life in Germany.
He was also briefed on future operational deployments and military commitments during the Olympic Games.
Then, during a tour of the units' welfare facilities, he was able to meet some of the families and staff and hold a number of private roundtable discussions with senior officers and staff, including the General Officer Commanding 1 (UK) Armoured Division, Major General James Bashall, and the British Ambassador to Germany, Simon McDonald.
Published 4 May 2012