Defence Secretary visits UK personnel taking the fight to Daesh
Defence Secretary Michael Fallon today thanked UK personnel tackling Daesh on the frontline during a trip to RAF Akrotiri in Cyprus.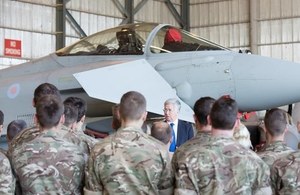 His visit follows Parliament's approval on Wednesday for the UK to extend its air campaign supporting local ground forces in their fight against Daesh from Iraq to Syria.
Mr Fallon met RAF personnel from 903 Expeditionary Air Wing who are flying daily missions over Iraq and Syria as the UK plays a leading role in coalition operations.
Defence Secretary Michael Fallon said:
We don't go into this lightly. We are very conscious that we are asking our brave armed forces personnel to risk their safety in order to maintain ours. This decision will make our streets here in Britain safer, as we take the fight to where Daesh plot attacks on our people and our allies.
The UK has played an important role in the campaign to degrade Daesh with over 800 personnel supporting operations in the region.
Coalition forces have struck over 13,500 targets and have helped Iraqi Security Forces to liberate 30% of territory seized by Daesh in Iraq.
British capabilities currently gather 60% of the Coalition's tactical reconnaissance in Iraq and 30% of the intelligence in Syria.
The RAF base at Akrotiri has been home to extensive air capabilities since coalition air operations began in September 2014. These include:
Tornado GR4s
Voyager air-to-air refuelling aircraft which has played a crucial role in refuelling UK and coalition aircraft.
C130 transport aircraft which have delivered both humanitarian aid and military support.
Sentinel surveillance aircraft which are able to identify and track multiple targets over great distances using their powerful radar.
Two Tornados joined the existing eight earlier this week and six Typhoon aircraft were introduced to more than double Britain's strike capability with missions.
Defence Secretary Michael Fallon said:
The deployment of Typhoons and two further Tornados will double the number of British fighter jets taking the fight to Daesh. Together with extension of our operations to Syria, that will mean we hit these brutal terrorists harder in their heartland.
Published 5 December 2015