News story
Defence Secretary visits Scotland
Philip Hammond was in Scotland today visiting Scottish veterans, and workers at Thales Optronics in Glasgow.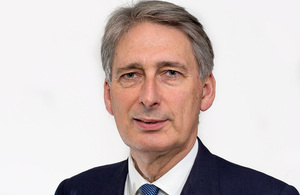 Whilst at Thales, Mr Hammond spoke about his belief that Scotland is stronger within the United Kingdom and that the UK is stronger with Scotland within it. He said:
What we have is precious. It is our shared history, our common values and our unity of purpose which makes us what we are today. It is Scotland which makes the UK united, and adds the 'Great' to Great Britain.
The UK armed forces are "drawn from the 4 corners of these islands", the Defence Secretary explained, working together across the world to keep the country and its people safe and secure. He said that nothing "epitomises more the strength we derive from being a United Kingdom than the men and women in our navy, army and air force, coming together with this common purpose".
Mr Hammond reiterated the economic importance of the UK defence industry in Scotland, which employs around 12,600 people and generates sales in excess of £1.8 billion, which would face an uncertain future should Scotland gain independence. He went on to talk about how this year holds particular historical significance to defence with the centenary of the start of the First World War.
This year, of all years, is a time to remember and to commemorate the millions of men from all parts of the United Kingdom who stood together in the trenches in France and Belgium, many of whom never returned, but who, together, English, Scots, Irish and Welsh, protected our freedom and our way life.

And the reason that defence matters in this debate is not just because of our proud history of joint endeavour. It's because defence provides the security and the peace of mind that underpins almost every single other area of this debate.
You can read the text of the full speech here.
Later, he visited a construction site where accommodation is being built for Scottish armed forces veterans. The Scottish Veterans Residences charity has received Libor funding and the Defence Secretary met with veterans who have benefited from the charity's support and toured the new flats that are being constructed.
Philip Hammond also visited the MOD's business services site in Glasgow to meet staff who provide HR support for both military and civilian employees across the department, as well as veterans.
Published 15 April 2014