Defence Secretary visits Army's rapid reaction force
Mr Hammond was at Colchester-based 16 Air Assault Brigade, home to the Airborne Task Force, which can deploy anywhere in the world at short …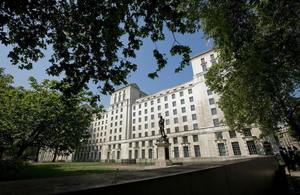 Mr Hammond was at Colchester-based 16 Air Assault Brigade, home to the Airborne Task Force, which can deploy anywhere in the world at short notice, and which has recently returned from operations in Afghanistan and Libya.
Brigadier Giles Hill, Commander of 16 Air Assault Brigade, briefed Mr Hammond about the Brigade's role and capabilities before taking him round an equipment display and to meet soldiers.
The vehicles and aircraft on show included Jackal and Husky protected mobility vehicles, as used in Afghanistan; an Apache attack helicopter that flew strike missions over Libya on Operation ELLAMY; and a Scimitar light tank and RWMIK (Refurbished Weapons Mounted Installation Kit) Land Rover that would be used on contingency operations.
Mr Hammond said:
The highly mobile intervention capability that 16 Air Assault Brigade offers is a key element of the British military. It has been very interesting to hear about the recent experiences of the Brigade's soldiers on operations and the plans for its future role.

A key message that I will take away is the confidence that the soldiers have in the helicopters, vehicles and weapons systems provided for their use on operations.
Brigadier Hill said:
It was a pleasure to host Mr Hammond and I hope that he has gone away better informed about 16 Air Assault Brigade, its role and capabilities.
Mr Hammond was also briefed about the Army Recovery Capability which provides additional care and support to wounded, injured and sick soldiers to help them successfully return to duties or transition into civilian life.
The first Personnel Recovery Centre is being built in Colchester and is set to open in Spring 2012. It will provide residential accommodation for up to 29 soldiers and 31 day attendees. The building's capital costs have been met by Help for Heroes, and the Royal British Legion will meet the centre's running costs, with support from other Service charities and government departments.
Mr Hammond said:
The treatment of injured servicemen has the highest priority, and the military has state-of-the-art medical facilities on the front line and at UK hospitals. It is only right that we continue to support wounded soldiers past their medical recovery and help them achieve the best in their future.
Published 6 December 2011