News story
Defence Secretary thanks troops for supporting Commonwealth Games
Michael Fallon has met military personnel who are supporting Police Scotland to make the Glasgow Commonwealth Games a success.
More than 2,000 personnel from all 3 services are providing general support to venue security as well as specialist skills such as explosive ordnance disposal support and air security measures similar to those seen during the London 2012 Olympics.
Mr Fallon visited men and women of the military venue security force who are working from HMS Dalriada, a Royal Naval reserve unit which opened in Glasgow last spring after a £1 million investment.
The Defence Secretary said:
I am proud to have met regular and reserve personnel who are making a vital contribution in support of the Commonwealth Games.

The armed forces work every day to keep us safe both at home and overseas, and this has been an opportunity for our servicemen and women to take part in a once-in-a-generation task that demonstrates their positive spirit and adaptability.
Around 900 personnel are being provided for the task by the British Army, while the Royal Navy and Royal Air Force have provided around 300 personnel each. A further 900 personnel are ready in reserve should they be required.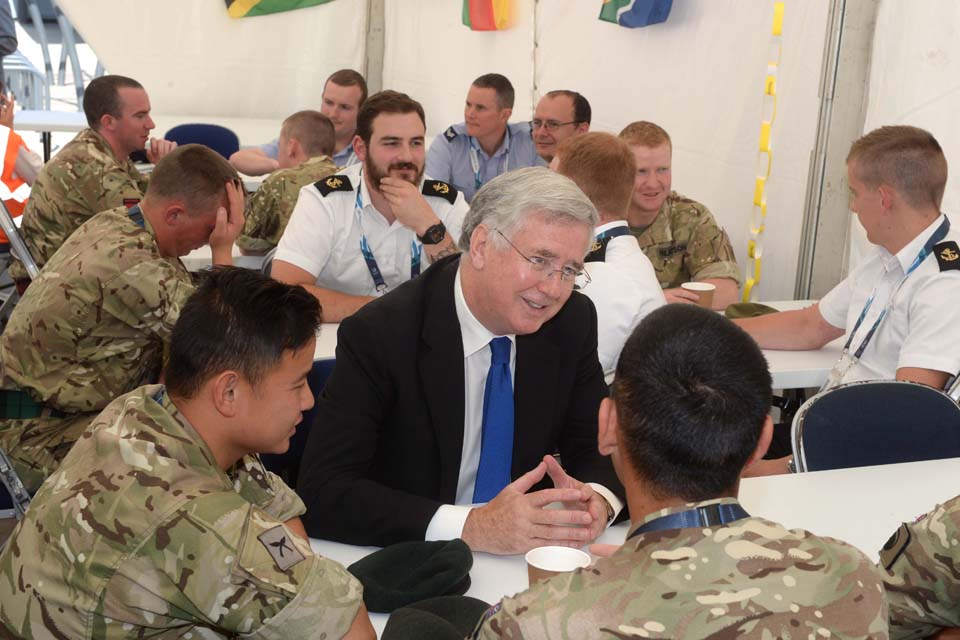 The elements are under the command of Brigadier Paul Harkness, commander of 51 Infantry Brigade, who said:
We are here to support Police Scotland in delivering a safe and secure Games that Scotland and the rest of the Commonwealth can enjoy and be proud of. We are very much enjoying being part of the Commonwealth Games in Glasgow, working alongside our colleagues in Police Scotland.

We have received a warm reception from both the city and the spectators, and are enjoying being here as part of this memorable event. We wish all the athletes the best of luck, especially the 14 members of the armed forces competing in the Games.
Able Seaman Beth Piper, a navy reservist who is working on security at the Games, said:
I have really enjoyed working at the Games so far. We are supporting the police to allow it to run smoothly but we've also had the opportunity to visit the stadium and watch the opening ceremony. It's a real highlight of my reserves career.
At the opening ceremony on Wednesday, the Red Arrows performed a flypast, military flag-bearers supported the performance, and pipes and drums from the Royal Regiment of Scotland, the Scots Guards and the Royal Scots Dragoon Guards played during the arrival of Her Majesty The Queen.
The military support has been provided at the request of Police Scotland and has been approved by the Home Office through the established process of military aid to the civil power. It is funded by the UK government.
Throughout the Games, the armed forces will maintain their standing commitments, including operations in Afghanistan.
Published 25 July 2014