Defence Secretary responds to criticism over Navy tankers order
A letter from Defence Secretary Philip Hammond responding to calls that the MOD contracts for new Royal Fleet Auxiliary tankers should have been awarded to UK firms has been published in the Daily Mail today.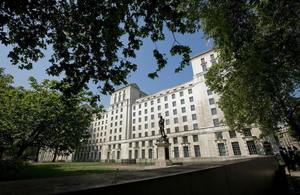 The new Military Afloat Reach and Sustainability (MARS) tankers will maintain the Royal Navy's ability to refuel at sea and will provide fuel to warships and task groups.
They will support deployed amphibious, land and air forces close to the shore, will be able to operate helicopters, and are planned to enter service from 2016, replacing existing Royal Fleet Auxiliary single-hulled tankers.
Last week the Minister for Defence Equipment, Support and Technology, Peter Luff, announced that Daewoo Shipbuilding and Marine Engineering (DSME) is the government's preferred bidder for the £452m order of four of the MARS tankers and that they will be built by DSME in South Korea.
Mr Hammond has responded to criticisms in the media that the contract has not been awarded to a UK company, or a company that would build the vessels in the UK, by sending a letter to the Daily Mail which has been published today. Here follows the full letter sent to the newspaper:
No British firm put in a bid and the Italian company [Fincantieri] never indicated during the two-year bid process that they would build any of the tankers in the UK.
When we are building complex warships or highly sophisticated weapons, of course we must protect Britain's industrial base. But when it comes to non-military type equipment, I am clear that my responsibility is to get the best deal for the UK taxpayer and plough the savings back into the front line.
In this case, the choice we were faced with was to buy South Korean and save hundreds of millions of pounds for the taxpayer, or let the work to an Italian shipyard. I believe we made the right choice.
Related news MOD to order four new RFA tankers
Published 29 February 2012