News story
Defence Secretary praises strikes on Daesh stronghold
Michael Fallon has praised RAF crews who have struck a major Daesh training complex in Mosul.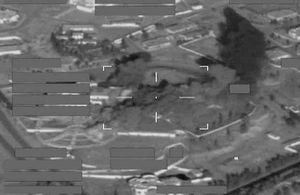 A pair of RAF Tornados struck a headquarters and training centre for foreign terrorist recruits, which was located in a Saddam Hussein built palace close to the Tigris. The strike was part of a carefully coordinated coalition attack on the compound, which housed and trained recruits and contained outbuildings for internal security and repression.
Defence Secretary Michael Fallon said:
Daesh has been losing followers and territory for months, and emphatic strikes like this show that we and the coalition will not waver.

Daesh fighters, both foreign and home grown, can see that they are targets inside this cult.
During his visit to RAF Akrotiri yesterday, where Tornado and Typhoon aircraft are flying daily missions against Daesh, Mr Fallon also announced that additional UK troops will deploy to Iraq to support the military effort against Daesh later this month. The trainers are the first wave of the latest uplift to the UK's contribution to the Counter Daesh campaign. They will be based at the Al Asad airbase where they will provide counter improvised explosive device (c-IED), first aid and infantry skills training.
Mr Fallon said:
These troops will bolster a campaign that has Daesh on the back foot.

The uplift underlines that Britain is stepping up, not stepping back from our International commitments, following the EU referendum.
UK troops have helped to train over 21,000 Iraqi forces and carried out over 900 strikes - a contribution second only the United States. The UK government also recently delivered around £1.4 million worth of machine gun and sniper ammunition the Kurdish Peshmerga who are battling Daesh in the north of Iraq.
Before arriving in Cyprus Mr Fallon visited Malta where he held bilateral talks with his counterpart Minister Carmelo Abela, to deepen defence relations. The UK and Malta have strong historical ties, a recent example being the UK providing security for last year's Commonwealth Heads of Government Meeting (CHOGM).
While in Malta Mr Fallon visited the crew of HMS Enterprise in the port of Valletta where it was being replenished. HMS Enterprise has been deployed in the Mediterranean since June 2015 where it has been providing a vital contribution to Operation Sophia, the EU mission saving thousands of lives in the Mediterranean and breaking the business models of the people smugglers. Recognising this significant contribution, the Defence Secretary announced that HMS Enterprise's crew has been selected as the Royal Navy's recipient of the Firmin Sword of Peace. The Sword of Peace is an award given to units of the UK Armed Forces who have gone above and beyond their normal role.
Mr Fallon said:
In a single year, HMS Enterprise has rescued over 7,000 migrants.

I have awarded the entire ship's crew the Firmin Sword of Peace, given to the unit that has carried out exceptional service beyond the call of duty.
The visit follows the recent authorisation of the Defence Secretary to deploy RFA Mounts Bay to Operation Sophia to counter arms smuggling into Libya by terrorist groups such as Daesh.
Published 3 August 2016
Last updated 3 August 2016
+ show all updates
Text change
First published.