Defence Secretary meets UK commanders just back from Afghanistan
Defence Secretary Philip Hammond joined commanders recently returned from operations in Afghanistan yesterday as they briefed MPs and peers on the progress made during their six-month tour in Helmand province.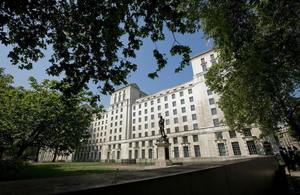 Mr Hammond, in his first week as Defence Secretary after being appointed to the role on Friday, welcomed senior members of 3 Commando Brigade Royal Marines to the Houses of Parliament, including Brigadier Ed Davis, who was the Commander of Task Force Helmand until earlier this month.
Brigadier Davis was joined by Lieutenant Colonel Oliver Lee, Commanding Officer of 45 Commando Royal Marines, and Lieutenant Colonel Giles Woodhouse, Commanding Officer of 3rd Battalion The Mercian Regiment.
The briefing to parliamentarians, chaired by the Defence Secretary, came the day after he delivered the Government's Quarterly Update on Afghanistan in the House of Commons.
Mr Hammond said:
I was very grateful for the opportunity to meet with Brigadier Ed and his colleagues so soon after becoming Defence Secretary. I intend to visit British personnel serving in Afghanistan as soon as possible to see first-hand the progress being made by UK forces.
In the meantime, I found it extremely valuable to get the operational insight of senior members of 3 Commando Brigade who have recently returned.
I recognise that our vital work in Afghanistan has come at the cost of great sacrifice, and it is right that questions are asked about the way in which our operations are conducted.
The purpose of today's briefing was to enable MPs and peers to put their questions directly to commanders.
What is clear is that British forces are making excellent progress in bringing stability and security to Helmand province through both facing down the insurgency and growing the capability of the Afghan National Security Forces.
Looking ahead, I agree with the Brigade's assessment that the mission is achievable and on track to transition the lead for security to the Afghans by the end of 2014 and cease combat operations for British troops by 2015.
Prior to handing over to 20th Armoured Brigade on 10 October 2011, 3 Commando Brigade spent six months keeping up the pressure on the insurgency whilst overseeing significant developments in the capabilities and confidence of the Afghan National Security Forces in Helmand.
Before briefing MPs from across the political spectrum, the three commanders chatted to the Defence Secretary about their tour, giving him the benefit of their insight from the ground.
Brigadier Davis said:
We have concentrated on strengthening our relations with our Afghan partners in the Army, Police and Helmand provincial government.
They have worked hard to build up their capacity to provide security and protect the people from insurgents, as seen by the transition of security authority for Lashkar Gah to the Afghan National Police in July.
We have worked closely with the Provincial Reconstruction Team, the UK's civilian effort in Helmand, to continue to stabilise and develop insecure areas.
The men and women of 3 Commando Brigade, some of whom made the ultimate sacrifice, and their families can be immensely proud of what they have achieved in keeping our country safe by building stability and security in Afghanistan.
Over their six-month period in Helmand, 3 Commando Brigade completed thousands of patrols and held more than 650 'shuras' or traditional Afghan public meetings.
Troops found and rendered safe more than 400 improvised explosive devices and destroyed 7.2 tonnes of homemade explosive. They oversaw the laying of 47km of road as well as the refurbishment of 11 schools and three bazaars.
Commanders say that British forces are making excellent progress in growing Afghanistan's own security capability and are currently ahead of schedule for meeting the target of 171,000 Afghan Army and 134,000 Afghan Police by the end of this month.
Published 20 October 2011