Defence Secretary meets New Zealand counterpart
The Defence Secretary Philip Hammond has welcomed the New Zealand Minister of Defence Dr Jonathan Coleman to the UK.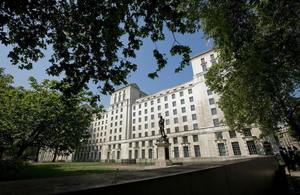 The meeting took place yesterday, Wednesday 1 February 2012, and was the first between the two ministers. The event provided an opportunity to discuss topics of mutual interest, including operations in Afghanistan and potential areas of co-operation and collaboration between the two countries.
The meeting with Mr Hammond was part of a two-day visit by Dr Coleman, Chief of the New Zealand Defence Force Major General Rhys Jones and the New Zealand Secretary of Defence Mr John McKinnon.
The visit was seen as an opportunity for the newly-appointed minister to gain a better understanding of the UK-New Zealand defence relationship and to obtain an update on the transformation of the Ministry of Defence following the Strategic Defence and Security Review.
The visit also included meetings with the Minister for the Armed Forces Nick Harvey and the MOD's Permanent Secretary Ursula Brennan, combined with briefing sessions on Afghanistan, capability development and Defence Transformation.
Published 2 February 2012