Defence Secretary in Cyprus as 2 LANCS receives Afghanistan medals
Secretary of State for Defence Dr Liam Fox has visited the soldiers of 2nd Battalion Duke of Lancaster's Regiment (2 LANCS) as they receive their Afghanistan medals in Cyprus.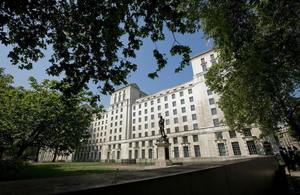 Dr Fox was joined by Chief of Joint Operations Air Marshal Sir Stuart Peach, to attend their Trooping of the Colour. Air Marshal Peach acted as Inspecting Officer and presented members of the Battalion with campaign medals following a gruelling six-month tour in Afghanistan.
In an address to the Battalion, known as the 'Lions of England', and their families and friends, Dr Fox said:
It is an enormous privilege to take the parade before the officers, soldiers, and families of 2nd Battalion the Duke of Lancaster's Regiment.
As Lions of England you have served with distinction in Iraq, Cyprus and most recently in Afghanistan. I would like to pay tribute to you all, and I would also like to thank the families for their support through the tough times, the sacrifices, and the good times.
The Battalion rightly takes immense pride in its regimental family and it's great to see so many of you here today.
I would also like us all to remember those in the Battalion that made the ultimate sacrifice for the security of their country and its people. They will not be forgotten.
Following the parade, Dr Fox was able to meet and greet a number of the soldiers and their families and enjoy what was a special day for all members of the Battalion.
The Colonel of the Regiment, Brigadier Mike Griffiths CBE, said:
This is the first time a Duke of Lancaster's Battalion has been able to Troop their Colours, and I am particularly pleased that the 2nd Battalion have chosen to take on the challenge in such short order after the conclusion of arguably the longest Battalion operational tour in contemporary history.
It is very fitting that the Secretary [of State] of has chosen to honour the Battalion today by taking the parade. The Battalion was the first unit deployed on operations by the new Government and found themselves in the thick of some of the hardest fighting of last summer.
They acquitted themselves with honour and courage and are rightly proud of their considerable achievements.
Today they also remember six of their comrades who did not make it home.
The Battalion lost six men on operations during the tour: Kingsman Jason Dunn-Bridgeman, Corporal Simon Hornby, Kingsman Sean Dawson, Captain Andrew Griffiths, Sergeant Peter Raynor and Kingsman Darren Deady.
2 LANCS' Commanding Officer, Lieutenant Colonel Robbie Boyd, said:
Conducting such a parade this close to finishing our lengthy operational tour as the Theatre Reserve Battalion from Cyprus has been challenging, but fun.
If has been a wonderful opportunity to share the pride we have in our achievements over the past 18 months with our friends and families here in Cyprus, and it has given everyone a day to remember.
The discipline, teamwork, and high morale needed for such a parade are the same qualities North West officers and soldiers demonstrated time and again in the face of the enemy in Helmand, and yet again my Lions have delivered.
We now prepare to move home to Weeton in August where we look forward to several Freedom and Homecoming parades throughout the North West.
The 2nd Battalion has been brilliantly supported by the people of North West England, both in Cyprus and when deployed in Afghanistan. We are looking forward to returning. We are coming home.
2 LANCS will return home to the UK in late August after a three-year tour based in Episkopi, Cyprus. From Cyprus they deployed continuously for over 15 and a half months as the Theatre Reserve Battalion into Afghanistan, their longest Battalion operational tour in recent history.
Published 20 April 2011