Defence Ministers visit central Asian countries
Defence Secretary Philip Hammond is holding talks with the governments of Kazakhstan and Uzbekistan this week to secure supply lines for getting equipment home from Afghanistan when combat operations finish there.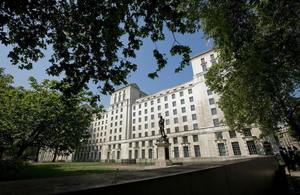 The talks are part of an effort to boost Britain's relationship with key countries in the region and promote international co-operation on Afghanistan. They involve the Defence Secretary and the Armed Forces Minister Nick Harvey visiting five central Asian countries.
Mr Hammond held meetings yesterday in Kazakhstan, where he signed an agreement which will allow overflight access to assist in transporting military equipment to and from Afghanistan. Mr Hammond and Kazakh President Nazarbayev also agreed to start negotiations for a land transit agreement.
The Defence Secretary is today holding a series of meetings with senior figures of the Uzbekistan Government. Discussions will focus on starting talks for a land transit agreement to open up a northern supply route to get military equipment out of Afghanistan as Britain prepares to end combat operations by the end of 2014.
The Armed Forces Minister will follow this up with visits this week to Kyrgyzstan, Tajikistan and Turkmenistan.
This engagement with governments in the region is an essential part of the UK's security interests in helping to secure the long-term stability of Afghanistan, which borders three of the central Asian states.
The UK's defence relationship with these countries also includes offering places on training courses, such as at the Royal College of Defence Studies, and English language training.
Speaking from the Kazakh capital, Astana, Mr Hammond said:
It's vital that we secure the supply lines we need to get our equipment home as combat operations finish by the end of 2014. We have a major logistical operation to undertake to get around 11,000 containers and around 3,000 armoured vehicles back from Afghanistan and we will need to work with our partners in the region to do so.
Central Asia plays a pivotal role in Afghanistan, so we want to build on our existing links to strengthen our engagement, including with Kazakhstan and Uzbekistan. We have a shared interest in the stability of the region and we want to work together to ensure a stable future for Afghanistan and its neighbours.
Last week, Europe Minister David Lidington made a statement in the House of Commons on the importance of the UK's relationship with the countries of central Asia, marking two decades since the UK established diplomatic relations with the countries.
Mr Lidington said in his statement:
Active and constructive UK engagement with these countries remains essential. They constitute a region of growing importance for the UK's prosperity and security interests. We have a commitment to promoting the core values of rule of law, human rights and democracy that we hold dear and that we regard as the best basis for future stability and growth in this region.
Published 28 February 2012