Defence Ministers collect for Poppy Appeal
The Royal British Legion's 2011 Poppy Appeal was launched last week with the expressed aim of breaking previous years' fundraising totals. …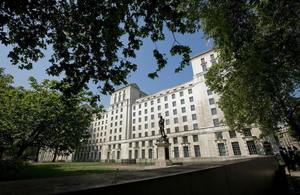 The Royal British Legion's 2011 Poppy Appeal was launched last week with the expressed aim of breaking previous years' fundraising totals.
The Poppy Appeal raises funds needed to support those currently serving in Afghanistan, veterans of past conflicts, and their families.
And helping the Royal British Legion try to beat previous records yesterday were Minister for International Security Strategy, Gerald Howarth, and Minister for Defence Personnel, Welfare and Veterans, Andrew Robathan.
Mr Robathan joined other Poppy Appeal volunteers yesterday afternoon in the One New Change shopping centre in the City of London where he spent time persuading shoppers to spare some of their cash for the appeal. He said:
The spirit of all the volunteers - serving or otherwise - who were collecting for London Poppy Day was fantastic. And I was delighted to join them in the City of London to raise funds on behalf of the Royal British Legion. My thanks to everyone who contributed.
Mr Howarth joined with volunteers at Westminster tube station. He said:
As a Minister I relish the opportunity of joining parliamentary colleagues and others in taking part in the annual Poppy Appeal collection.
It was truly heartening to see the number of people opening their wallets and purses to contribute, even those who were already wearing poppies to contribute a second time.

At 1530hrs yesterday afternoon at Waterloo Station, soldiers collecting there told me that last year they raised £16,000, and by mid-afternoon on Thursday they had already raised £27,000 at that station.

This demonstration of public support for the Armed Forces is a reflection of the extraordinary high regard in which they are held by the entire nation, with the exception of a handful of extremists.

I hope that everyone will be sporting a poppy next Friday to remember not only those who have recently given their lives but also those who have given their lives in two world wars, and in subsequent campaigns, to preserve the freedom of these islands.

As we approach Remembrance Sunday, perhaps we should look forward to 2012, when two special events will occur - the 30th anniversary of the Falklands campaign in which 255 lost their lives, and the completion of the long overdue Bomber Command Memorial which at last will pay tribute to the 55,573 men of Bomber Command who gave their lives.
See the Poppy Appeal website for more information on the campaign.
Published 4 November 2011