Press release
Defence Minister visits UKHO
Julian Brazier TD MP, Parliamentary Under Secretary of State and Minister for Reserves, visits the United Kingdom Hydrographic Office.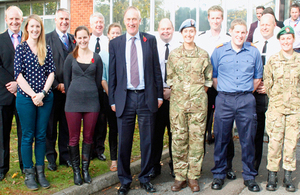 Defence Minister visits UKHO
Julian Brazier TD MP, Parliamentary Under Secretary of State and Minister for Reserves, visited the United Kingdom Hydrographic Office (UKHO) in Taunton yesterday (Thursday 30 October). As the minister responsible for this MOD trading fund his aim was to gain first hand understanding of the unique work undertaken providing official maritime navigational products and services to the Royal Navy, defence and the global shipping community under its world renowned ADMIRALTY brand.
Mr Brazier was welcomed by UKHO Chief Executive Ian Moncrieff CBE and his senior team before meeting a wide cross section of staff throughout the day, including several reservists. He received demonstrations of operational production and supply arrangements as well as the full range of products and services including customer service capabilities. The minister was briefed on chart production by the team responsible for charting UK home waters before learning more about support provided to specific defence operations.
This was Mr Brazier's first visit to UKHO since being appointed to his portfolio in July and he said he was delighted to be able to meet so many of the people responsible for delivering both UKHO's public tasks and its commercial revenue.
He said, "This organisation, aside from being a key employer in this lovely part of the UK, has an enviable reputation as a leading hydrographic office in the world. It is achieving great things as a government office meeting all its public tasks in full while also generating revenue from its global reach; it is truly a force for good in the support of safety of life at sea."
Contact:
Sarah Dobson, Corporate Communications Manager
01823 337900 ext 5043
sarah.dobson@ukho.gov.uk

Notes to editors:
UKHO, an Executive Agency of the Ministry of Defence, has been charting the world's oceans for more than 200 years with the primary aim of providing navigational products and services for the Royal Navy and merchant mariners to save and protect lives at sea. In addition it serves small craft and leisure mariners and provides a range of consultancy services.

UKHO also plays a central role, in support of the Maritime and Coastguard Agency, in discharging the navigation element of the UK's Safety of Life at Sea Treaty obligations for waters of UK national responsibility.

UKHO produces a worldwide series of some 3,500 paper nautical charts, 200 publications under the ADMIRALTY brand and Electronic Navigational Charts (ENCs). The ADMIRALTY portfolio is sold globally and used by nearly 70% of international shipping.

Julian Brazier MP was appointed Parliamentary Under Secretary of State and Minister for Reserves in July 2014 He has been the Conservative MP for Canterbury and Whitstable since 1987 and has been a member of Defence Select Committee from 1998 to 2001 and from 2010 until his appointment as a minister.
Published 5 November 2014