News story
John Hayes' response to Alistair Buchanan's comments on energy security and rising gas prices
John Hayes' reponse to comments made by Alistair Buchanan, Chief Executive of Ofgem.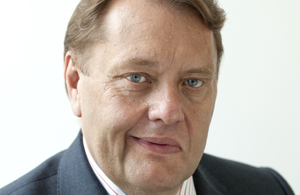 Responding to Alistair Buchanan's comments today, John Hayes, Minister of State for Energy, said:
"Alistair Buchanan's remarks come as no surprise, because we know that around a fifth of our ageing power stations are due to close over the next decade. We are determined to secure investment in new plant. That's why we are stepping up to the plate, by reforming the electricity market through the most radical Energy Bill in a generation, to ensure our energy security and to keep the lights on.
"These fundamental reforms will incentivise a record £110 billion of private sector investment in new power generation – in renewables, new gas, nuclear and Carbon Capture and Storage. Investing in a diverse energy mix will secure our energy future, and ensure we insulate consumers from the fluctuating price of fossil fuels."
Published 19 February 2013
Last updated 19 February 2013
+ show all updates
Statement revised to include quote from DECC minister.
First published.