Death Penalty Expert Group meets for first time
Minister of State Jeremy Browne today opened the first meeting of the Foreign Office's Death Penalty Expert Group.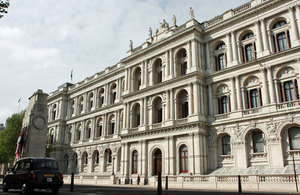 The Minister said:
"Abolition of the death penalty is an area that the Government is keen to emphasise and put at the forefront of its human rights agenda."
In his introductory remarks, the Minister outlined the Government's opposition to the death penalty in all circumstances as a matter of principle. He also outlined the overall objectives of the Government's Strategy for Abolition of the Death Penalty. He informed the group of his recent visit to Caribbean countries, where he raised the death penalty with his counterparts.
The Death Penalty Expert Group has been created as a sub group of the Foreign Secretary's Advisory Group on Human Rights. Its objectives are to gain advice from experts drawn from academia, legal experts, NGOs and Parliament in order to help shape the implementation of the Government's strategy towards abolition. The first meeting included discussion on how to make progress towards abolition in Kenya, Japan and the Caribbean.
Published 31 January 2011