Tell us what you want to see on our page to win tickets to a new production at the National Theatre. We have launched our own facebook page…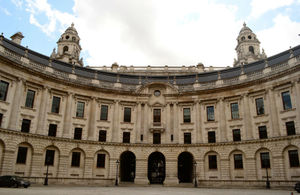 We have launched our own facebook page. We're always looking for new ways to keep in touch with our sectors, and we'll be using facebook to promote our dynamic content such as photos, films, consultations and competitions to keep our followers up-to-date on the work of the department and our Ministers.
We'll also be using facebook to link up with our family of bodies, championing their work and initiatives. Whether you're interested in broadband rollout, London 2012 or arts funding, the best way to keep up to date is to like our page.
Win tickets to a major new production
We want to hear from you. What do you want to see on our new facebook page? More photo and video content? More news from our bodies?
Answer three questions in the survey below to be in with the chance of winning a pair of tickets to the National Theatre's bold new production of A Woman Killed With Kindness by Thomas Heywood. A fast-moving, frightening and erotic thriller, the play strips bare two women's lives - with forensic realism - in one of the first tragedies ever to focus on ordinary people.
Even if you don't win, there are thousands of Travelex £12 tickets available to this and other National Theatre productions. Why not plan a trip to London with VisitEngland?
Our survey closed on 4 July and the winner has been notified: thanks for taking part!
Draw terms and conditions
Competition closes 4 July 2011, winners will be notified by 6 July 2011. Winners' tickets are valid for Monday-Thursday performances 12-28 July 2011, excluding 19 July 2011. Subject to availability. Promoter reserves the right to substitute prize for that of an equal or greater value if necessary. These tickets have been provided courtesy of the National Theatre at no cost to DCMS.
Further information
In line with facebook's promotional guidelines, we've replaced our original competition, launched on 27 June, with this new competition. Please accept our apologies if you 'liked' our page before 3pm on Monday, in the hope of entering the free prize draw, but as we've been advised that this kind of competition is not allowed by facebook, you'll have to take the quick survey to be in with a chance of winning.
Published 13 August 2012