Press release
Dawlish Warren beach management scheme: public exhibition
The Environment Agency and partner Teignbridge District Council are holding a public exhibition on 26 November 2015 to provide more information about the Dawlish Warren beach management scheme to hear your views on what is planned.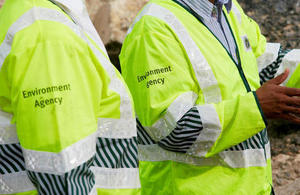 The exhibition will be open from 2pm until 8pm on 26 November 2015 at the Langstone Cliff Hotel, Dawlish Warren, EX7 0NA.
A range of information will be available about the scheme including its objectives and the approximate timescales. Visitors will be able to see an overview of the scheme - how the beach and sand spit work to protect the estuary from flooding and the natural processes affecting Dawlish Warren and the estuary.
The team will be keen to hear views on what can be done to help minimise any disruption during the construction phase of the works which, subject to permissions and consents, are planned to start in 2017.
The Environment Agency has carried out a number of surveys to gather information on the marine environment around Dawlish Warren and in the estuary mouth. This information, along with your feedback will be key to helping the Environment Agency and Teignbridge District Council plan the works and members of the project team will be present at the exhibition to answer any questions.
The £14 million scheme will help to reduce the risk of flooding to nearly 2,900 properties. The estimated long-term monetary benefit of the Warren continuing to shelter communities and the main railway line from storms is £158 million.
Richard Cox, Project Manager for the scheme, said:
This £14m scheme will help reduce the risk of flooding for nearly 2,900 properties, the main line railway and roads around the inner estuary. Furthermore, the Warren's natural beauty and its amenity value for beach users will be greatly enhanced.
People can also learn how to be better prepared for flooding and how to sign-up for free flood warnings, via the Floodline Warnings Direct Service.
Contact
Media enquiries: email Communications_DC@environment-agency.gov.uk or call 03708 506 506.
Notes to editors
For more information about the Dawlish Warren tidal defence scheme, visit www.gov.uk. People can check their flood risk and register for free flood warnings online at www.gov.uk/flood or by calling Floodline on 0345 988 1188.
Published 9 November 2015