News story
David Verey CBE appointed Chairman of the Advisory Committee on the Government Art Collection
Collection promotes British art around the world.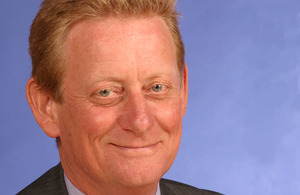 The Department for Culture, Media and Sport has appointed David Verey CBE as the next Chairman of the Advisory Committee on the Government Art Collection, succeeding Julia Somerville when she steps down after serving ten years on 2 September 2013. His appointment will run for the five years to 2 September 2017.
Biographical details
David Verey, CBE is Lead Non-executive Director at the Dept for Culture, Media and Sport. He started his working life at merchant bankers Lazard Brothers in 1972, rising to director in 1983, Deputy Chief Executive in 1985, Chief Executive in 1990 and was Chairman from 1992 until 2001. From 1996 to 2000 he was also a Director of Pearson plc, and from 2004-2008 was Chairman of Blackstone UK. He was a Director of LMS Capital plc from 2009-2012, and Chairman of Thames River Capital (UK) Ltd from 2010-2011.
Currently, he is a senior adviser at Lazard & Co., Limited, a director of Daily Mail and General Trust plc, a Director of Sofina SA, a Director of Bank Gutmann in Vienna and a Trustee of both The Teaching Awards Trust and The Pilgrim Trust.
He was a Trustee of Tate from 1992 until 2004 and Chairman of the Trustees from 1998. He has been Chairman of the Trustees of the Art Fund since 2004, and is also a member of Trinity, Cambridge Finance Committee and the Cambridge University Library Visiting Committee. He was a Fellow of Eton College from 1997 until 2012.
Background
The Government Art Collection (GAC) currently holds over 13,500 works of art, mainly by British artists ranging from the 16th century to the present day. Placed in offices and official residences, two thirds of the works are on display in British Government buildings in the United Kingdom and around the world. Dating from 1898, the Collection helps promote British art and history while contributing to cultural diplomacy.
Additionally, to increase public access to collection, the GAC created in 2011 a touring exhibition which opened at the Whitechapel Art Gallery, before travelling to Birmingham Museums and Art Gallery in 2012 and Ulster Museum in 2013.
The Chairman and Members of the Advisory Committee meet three times a year to approve the acquisition and commissioning of works of art and advise on the stewardship of the Collection. They are unpaid.
Published 12 June 2013