David Lidington: 'grave concerns about ongoing human rights violations in Belarus'
Minister for Europe David Lidington has issued a statement on the situation in Belarus.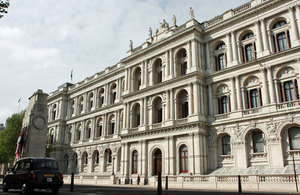 The United Kingdom would like to reiterate its grave concerns about ongoing human rights violations in Belarus.
Having previously called for the immediate, unconditional release of all political prisoners following the Presidential election on 19 December 2010, the UK deeply regrets the opening of trials against those detained. The UK condemns in the strongest terms the recent sentencing of Mr Yevgeniy Parfyankow, Dmitry Novik, Alexander Molchanov and Alexander Otroshchenkov to between three and four years imprisonment in a high security prison. The convictions appear to be politically motivated and are entirely disproportionate to the charges brought - for example a four-year sentence for merely hitting a wooden makeshift barrier. We are also deeply concerned by the evident pressure being placed on the lawyers defending those detained, in particular the disbarment of lawyers at the request of the Ministry of Justice.
We were shocked by the statement issued by Ales Mikhalevich on 28 February concerning his treatment while in KGB detention, and call on the Belarusian authorities to carry out prompt, thorough and impartial investigations into all reports of torture, physical coercion and intimidation.
The United Kingdom calls on Belarus not to isolate itself further from the international community by showing such flagrant disregard for internationally accepted standards of justice.
And we call on Belarus, once more, to release all political detainees immediately and to drop all charges against them. This would be a step towards the resumption of a dialogue with the international community.'
Published 6 March 2011