David Bowie exhibition in Zagreb
Ambassador Dalgleish opened the exhibition celebrating David Bowie.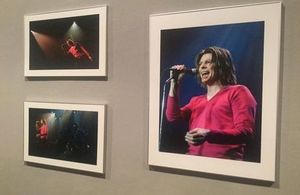 The Museum of Arts and Crafts in Zagreb has marked the first anniversary of the death of a great British artist and a global icon, David Bowie, with the exhibition of photographs taken by Brian Rašić.
The UK Ambassador to Croatia, Andrew Dalgleish, opened the exhibition, saying that Bowie represented some of the greatest things the Britain has to offer: creativity, innovation, talent.
The photographer Rašić began his career in the former Yugoslavia – of which Croatia was a part until 1991 – but moved to London in the 1990s and has swiftly made his way through the music scene and photographed some of the world`s biggest stars including The Rolling Stones, Paul McCartney and others. He followed Bowie on stage for two decades and has shared some of the best moments of Bowie´s career through this multimedia exhibition in Zagreb, which will run for a month.
As a part of the exhibition, The British Council, in cooperation with the Museum of Arts and Crafts, organised a screening of the BBC documentary "David Bowie - Five Years" directed by Francis Whately. The British Council is committed to maintaining long term partnerships between the UK and EU arts organisations. This film gives the opportunity for visitors to peek into Bowie`s creative process and his stunning musical legacy.
Published 17 February 2017